Katie + Kenyata
Read Their Love Story!
Good morning!

First off thank you so much for giving couples the opportunity to participate in a change to win their DREAM WEDDING!

When we heard about this contest we were so ecstatic especially with all the progress we as a country are making towards legalizing LGBT marriage and wedding ceremonies. We have absolutely come a long way.

A little about both of us,

My name is Kenyata Garner, I have most recently turned the big 29 on February 3, and so far it has been a wonderful year.

My beautiful fiancés name is Katherine (Katie) Gragg she is 27 years old. Whew I hope you hold onto your seatbelt because we have ONE story.

Katie and I met years ago when I was attending Northeastern State University in Tahlequah Oklahoma. How we met is beyond crazy, It still surprises me sometimes.

See, My parents are pastors (yes the dreaded gasp, and in reason) I was sent off to college in 2004 where i knew absolutely nothing about the world or the internet or life, I was a bit sheltered, ok....a lot.

One evening I was playing around in the net lab or computer lab (common terms) with one of my friends from high school who introduced me to the world wide web. At the time I didn't know you could actually talk to people online! SO I started a page on black planet and kind of browsed around, looking for friends and other musicians and poets. (Im a drummer and spoken word artist)

I kept it up for a few days and soon came across this wonderful young woman who took my breath away! Not only was she beautiful but she was poetic, intelligent, and absolutely breath taking. The problem was she was thousands of miles away living with her parents in Michigan. = (

We started off talking as friends, listening to music over the phone in my dorm, watching the same movies and eating the same foods on "movie nights" everything seemed peachy but during this time I was also struggling a lot with my sexuality and fighting with myself NOT to be gay. Praying and crying and wishing it weren't me. Needless to say, college was one of the worst times in my life as I came out to my parents. It was not pretty. Its crazy how I see all these kids now and they're just like "YES IM GAY AND IM PROUD AND MY PARENTS LOVE ME!" Not so much in my case. It would take a lifetime to go through all of the physical and emotional abuse I endured during my college years.

Although It was never intended I started to have feelings for Katie. After a few more weeks of talking, we decided to give long distance dating a try, it was my first real relationship so I guess it was inevitable that I immediately fell in love. I had absolutely NO dating experience, I was goofy and shy and well..... a preachers kid. Nevertheless she loved me, she loved my writing and pushed me towards my dreams. Another reason why I loved her, but distance was STILL an issue.

After about six months of dating we broke up and I dropped out of college after coming out to my parents. They were beyond livid, and physically abusive to me as an adult. Yes, as an adult I was being both mentally and physically abused. I had become extremely depressed and attempted suicide.

After college I was kicked out and ventured out on my own. Lost and really just alone. I had given up so many times that it was time for a change, I had to will myself back together and start a life for myself. I moved from house to house, friend to friend and finally got enough money to get on my feet.

Soon after I got my first apartment, started working and got my FIRST CELL PHONE! The first person I thought about was Katie. I mustered up a little courage and gave her a call. The first time I called there was no answer, SO i tried again and again with no avail. I then decided to return to the place where I'd first met her. Yes, online. I eventually found her and sent her an anonymous note with a poem attached, asking her if she knew who it was, her reply "I'd know your poetry if it were crumbled up outside on the ground" It seems too good to be true, I assure you it is.

At this time she was interested in someone else so we remained friends, and honestly it killed me inside. There was something about this girl, something that even now just lets me know she is it, she is whats real for me. Yet and still with all of my emotions and all of my heart crumbling I waited. I would wait a lifetime for this woman, even today.

The time came after a few months when I didn't care how far apart we were, I didn't care that her interest was with someone else, I knew I loved her and while in my apartment on the phone with her I simply said "I heart you" I didn't know WHAT WOULD HAPPEN! I didn't know if she would hang up or do the whole "lets just be friends" thing but I had to tell her. To my surprise she replied "I heart you too" she then asked me to tell her the "real thing" so I told her I loved her and in return she told me she loved me too!

We started dating again and spent long hours on the phone, hours turned to days and days to months and months to years.

It became a huge secret and I would tell my friends she was simply working or at home, everyone wanted to know why they had never met Katie, some people called me dumb, stupid, impossible. Some of my best friends were downright viscous towards me. The only person I had was Katie. The invisible girlfriend.

Ten years later we were finally ready to make the big move (During these ten years I had emotional issues and fears that wouldn't allow me to move. Again, if it would take a lifetime to tell you all the many issues I had because of my parents and family etc.)

We decided that it was either now or never, I got a plan ticket and had planned to move in with Katie who by now had moved to Chicago Illinois.

Three months before the move I got a phone call that changed my life forever. Katie was calling me from a hospital. Her friend had taken her to the hospital after she conveyed very strange behavior and memory loss, something I had never heard of. Especially from such a strong woman, a woman who had been the only friend I had had. How can someone so very strong be losing memory at such a young age?

I can't really put into words how I felt. They eventually put her into a mental institution and wrote her off as crazy. When I tell you I fought day and night with doctors, nurses, now her family was involved and knew who I was (they had never known we were together, her sister emily was the only family member of hers who knew I existed) I would wake up every morning and call the hospital to talk to her. I would ask her questions about me to gage what kind of day she was having. What my favorite color was, what my favorite food was, if she remembered I knew she was having a good day, if she didn't, it was a bad day.

Out of everyone involved in this crises, I was the only one who believed the doctors were wrong and that something else was happening to my girlfriend. SO I did what I had to do, I took a greyhound bus 14 hours from Tulsa Oklahoma to Chicago to see her, I was only able to stay a few days, During those few days my hopes went from one extreme to the next, but I wouldn't give up. the following month I came back to see her again for a few days. I always feel like we were cheated, we didn't have the awkward first real date, we didn't have the lets hold hands, from the moment I got there, it was fear and worry, stress and trying to make sure she was ok.

There so much about the story that I just can't type it all, soon after Her parents came and took her back home to Michigan and we were again miles apart and I lost contact with her yet again. The doctors eventually diagnosed her with epilepsy and she started to get better with medicine and proper care.

Again I fell into a deep depression and started hanging out all night long every night after work and throughout the weekends, until i received a phone call. It was Katie.

She wasn't sure why no one had contacted me or why her parents stopped talking to me or what happened but she knew she loved me and she apologized so much for what happened.

After numerous visits to her neurologist she was weened off of her medicine, and back to her normal self.

After a few weeks she was back in Chicago and asked me to come stay with her, and with a leap of faith,I did. I remember getting off that bus, looking around and being scared out of my freaking MIND! But I didn't want to lose her again, I couldn't.

We lived in Chicago for two more years and then moved to Tulsa, we have been here in Tulsa for about two years now and we couldn't be happier. Our story is unique no doubt, it is more heartbreaking than I am allotted time to tell. But just know, I have never done anything so brave for anyone in my life, not even myself. Without her I wouldn't even be alive today.

I asked Katherine to marry On August 15 2014 at the Cheesecake factory. I always thought getting engaged would be easy, but boy I tell you I was sweating bullets and stuttering all over myself, she said yes despite my awkward and crazy proposal and we've been planning it ever since.

Winning this contest would mean that all of our years and hard work to put this relationship together was not in vain. It means that I could provide her the wedding of her dreams and the well deserved honey moon she sure enough deserves. Through it all, the long distance (thank God I wasn't catfished lol) through the medical crisis, through losing her and finding her time and time again, we made it, and we have no doubt fought very hard to be together, and now that we are finally together, I will never let her go. I would honestly give my life, my all, and my love to this woman for an eternity.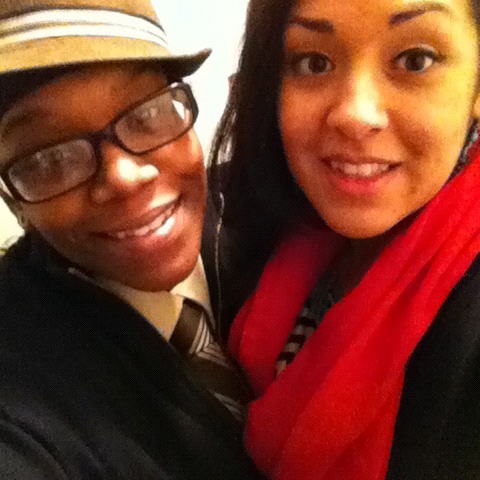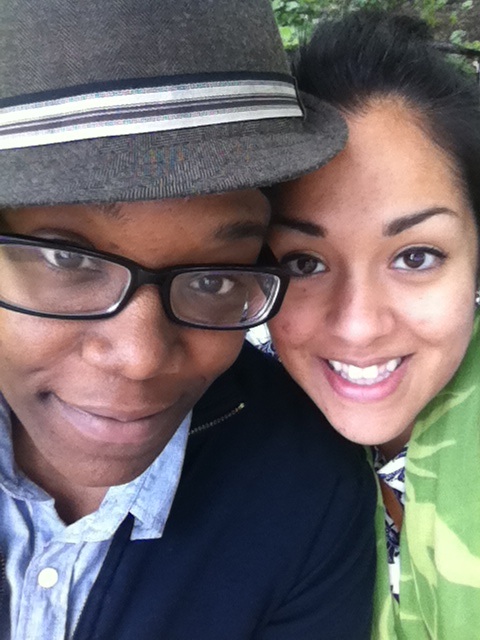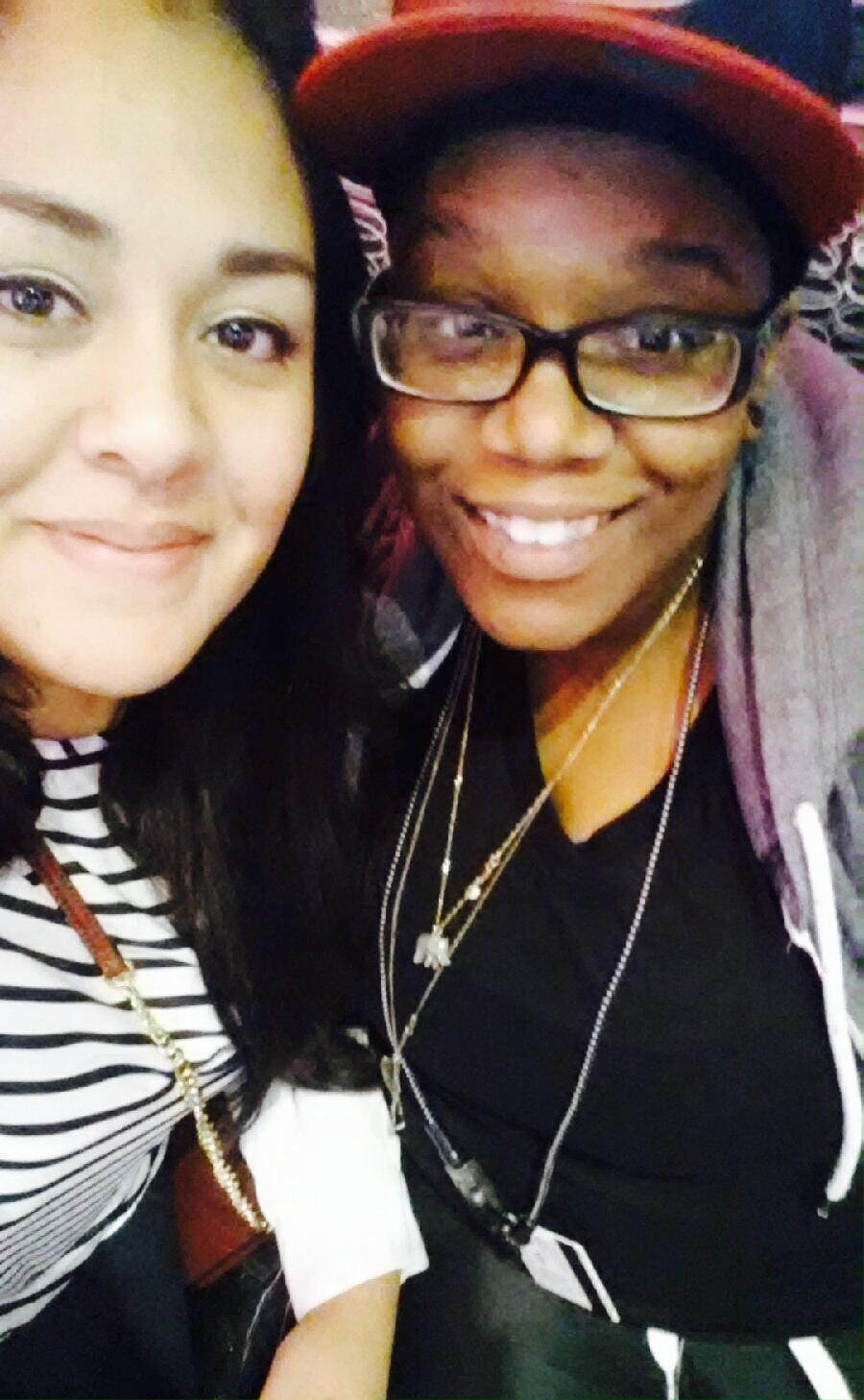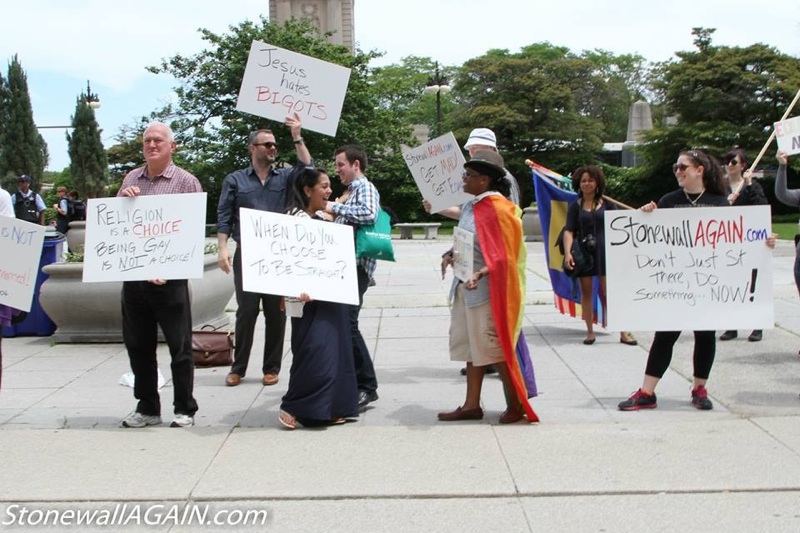 View All Giveaway Entrants:
Find Out More About The Wedding and Honeymoon Giveaway Sponsors:
Click on a Sponsor's Logo for More Information
EnGAYged Weddings' Social Media: