George + Chris
Read Their Love Story!
Here is the story of how we first met and fell in love.
December 16th 2010.
I had gotten off work and decided to go Christmas shopping with my friend, Vanessa. After shopping, Vanessa and I went downtown to meet up with other friends. Later on the night everyone had decided to go to a club called Missie B's. One of the local gay clubs in Kansas City. I didn't want to go for a couple of reasons. First it was already 2 a.m. I was tired. Second, I had just got done seeing a guy a month before and didn't want to see or meet anyone at the time. My friends kept begging me to go, so I finally gave in.
Claudia was mainly the reason why we went to Missie B's so she could see her friend DJ at the club. Claudia was dancing the night away and grabbed me to dance with her. We had a blast, but I was extremely tired and ready to go. I stepped back and sat at the bar. Then she took Vanessa and I to see inside the DJ booth.
Claudia started dancing again on the floor with a random guy. Then she pulled me into the middle and we danced for a minute. This random guy is behind me and Claudia is in front. I stepped out, I wasn't feeling it at the moment. I went to Vanessa and we talked. Claudia grabbed me by the arm and dragged me back out. She started dancing with us one more time. She said, "This is my friend George, George this is Chris."
We both said hello while we danced. Claudia had pushed us together and she took off. Chris and I were dancing to a song. I didn't really look at him the first time we had danced. When I actually looked at him, my first reaction was he is really cute.
We continued to dance, then all of a sudden the lights came on at the club. It was time for last call. We stood there awkwardly, not sure what to do next. My friends had already walked downstairs. As Chris and I were following behind, we started talking. I asked if he wanted to do a quick shot. He agreed, so we went to the bartender and I asked if we could get a couple shots. The bartender responded sure what will it be. I love red headed sluts shots. So I ordered two of them. At that moment Chris grabbed my arm and said those are his favorite shots! He loved them just as much as I did. Next thing we know the bartender came back with two shots that I didn't order. He said all he can do at this time are these two shots of "Ice 101" we didn't care so we cheered and took them. It was awful!
Vanessa came over and said that Claudia had left us! I'm thinking well how the hell are we going to get home!? Chris spoke up and said that he wouldn't mind taking us to wherever we needed to be. I declined his offer at first. Vanessa gave me a couple of looks. The look you give your friends saying, who the hell is this? Also that this person is cute. I introduced them to each other. Chris then offered if we still wanted to hangout we could go back to his place and chill. Vanessa gives me another look. The look that you give when you're not ready to stop partying yet. I was exhausted, it was 3 a.m.
I gave back the look. The look telling that you're up for it if they are. I asked Chris if we go, could you drop us off at my car later, he said sure.
When we arrived at his place, he offered us some drinks. We talked in the living room about everything. Vanessa said that Chris looked familiar, but wasn't sure where. I have never seen this guy. Chris said he was living in Springfield, MO. Which is about 2 1/2 hours south of Kansas City. Right then Vanessa knew where she recognized him. They went to the same high school together! I'm thinking small world! We stayed up pretty late chit chatting. I came to realize Chris and I have a lot in common. The main common ground we have was we both extremely love to cook. I was more into desserts and pastries. He was into entrées and sauces. We kept talking for hours. Vanessa had passed out on the couch.
Next thing I know Vanessa and I had woken up the next morning. Chris was there smiling at us. He offered to make us breakfast, but we declined. We had to get back to my car and get to work. While Chris was taking us back we chatted more about what we had in common. I ended up receiving his number and as I'm typing his name I asked for his last name. He said brown. Vanessa and I both said Chris Brown!? We all laughed. He gets it all the time. He asked me where I worked. I told him at this bar and grill he's never heard of. We get to my car and we said our goodbyes and thanking him for letting us crash at his place.
Vanessa and I are driving back from downtown Kansas City to Olathe. We were talking about how small the world is. I get to work and had started my shift like any other day. I get a table that had requested me. I'm excited to see which one of my regulars it was. I come out to the dinning room and there was a surprise! It was Chris sitting in my section! He had his big smile on.
I couldn't help but smile myself. So I greeted him and seeing what he was up to. He wanted to try a new restaurant. Later on his lunch. He asked me if he could ask a question. I said sure. He said, "I wanted to asked you on a date, but your friend was in the car still, I didn't want to make it awkward." I just laughed. I told him Vanessa is one of my best friends. It wouldn't have been awkward.
I was hesitant at first when he asked me. Then I'm thinking, why the hell not!? I said, "sure, when?" He wanted to go out to dinner that night after I got off work. I'm thinking wow he came all the way up here to ask me on a date. Instead of texting me. That's really cute.
Then I was thinking kind of creepy that he came all the way up here and sat in my section after we just met less than 12 hours ago. He made me smile a lot. Therefore I accepted, I asked where and when. He gave me time and place. I texted Vanessa what happened. She had the same thoughts cute and kind of creepy! She said go for it! She likes him and approves.
I get off work and rushed home to change. We had our first date on December 17th, 2010 at a gay bistro called 303. I was nervous as hell. I wasn't sure why, guess I was more excited. I walked in and saw him sitting at a table waiting for me. Im thinking wow, he looks hot. I sat down, ordered a drink and started chatting. We asked the usual awkward "first date" questions. What's your favorite color. What do you like to do. What are your favorite TV shows. Goes on and on for a couple of hours. We had a blast! We went back to his place and hung out more. We really enjoyed both of each other's company. We went on several dates. Pretty much every day. We talked all the time and texted each other. I was becoming like a high school girl, getting a text from her crush and gets all excited.
It was Christmas Eve and we had hangout that night as well. I asked him if he wanted to come to my family's Christmas! I'm thinking holy crap. It's been only a week and I'm asking him to come to MY family's Christmas! He said he would love it. My family was very welcoming. He enjoyed his time. Even though I knew it was a bit awkward. I had gotten him a present as well. I remember he said his favorite candy from childhood was Thingamajig. I also noticed he needed a new grooming bag. So I had bought him a grooming bad and filled it with those Thingamajigs. When he opened it, he loved it. He also had gotten me a present. It was great! He had also gotten me one of my favorite candy bars, Whatchamacallit! We spent a lot of time together and didn't get sick of each other. We spent New Year's Eve with my friends. We both actually cook dinner for my them. Everyone kept saying how well we worked in the kitchen together! I was thinking that's crazy. We never had cook with each other before, but it was natural how well we worked in the kitchen. Right then my heart started to melt. The ball had dropped at midnight and of course he was my New Years kiss. January he took me down to Springfield to meet his family. They were very nice, except his step dad. Rich is his name and he used to be a youth pastor. That was fun dealing with that. Later on Rich had grown to open his mind more. He accepted Chris and then later on, me. That was a big step for Chris.
Needless to say we fell in love in short months. After the first year, we decided to move from Overland Park, KS to Springfield, MO. That's where his family is from. To this day we are debating on where to move next, either back home to Kansas City or Colorado.
Second year came around for us. Christmas morning he made me do a scavenger hunt really early in the morning. I was mad! I'm like I'm sleeping! Then I saw a piece of paper next to me. I read it. It tells me how much Chris loves me and wants to be with me. At the bottom of the note it had said go to the closet. I got up went to the closet and there was another note. It told me to go to the living room, then bathroom, then bedroom, at this point I'm getting very annoyed! It was to early for this I told him. Finally the last note said to go back into the living room and open up the apples to apples game box. I did, first thing I saw inside the box was another red box. I stood there.
Time had slowed down from what I thought. I asked are these earrings!? He just raised his shoulders. I open the box and there was another note. How much he loves me and really wants to be with me, forever!
Inside I see this shinny new object. It was a ring! My eyes widen right up and I'm sure my expression was, shocked! I sat down looking at it. Then he asked me to marry him! So many emotions was rushing through. I said yes and he started to have tears coming. I started to tear up to.
He had told me that he had gotten with my older brother and his wife about marrying me and got help from my sister in law about the ring. I love the ring! It so me. We had talked about where and when we wanted to get married. We can't decide where now because so many states are legalizing gay marriage. He wants this fairytale wedding. I'm just simple and want to go to the courthouse and just sign documents. Then after we can have the reception party. I would love to have a fairytale wedding for us. The perfect honeymoon we been dreaming of. Just the money is tight between us at the moment. I still have yet to get him a ring. He's to damn picky! However I think we found a keeper!
Chris and I dream to open up our own restaurant one day. Our passion for food is insane! Our ideas for the restaurant are endless. I believe we have found the right restaurant we want to cater to the public. I hope to get married first and peruse my dream on opening this restaurant with Chris. Then later down the road to have children.
Every year on December 16th, Chris and I will take a shot of Ice 101 to remember when we first met that night. Then the next day, the 17th we go out to celebrate our anniversary. The night that Chris and I met, he had gotten into a fight with his mother on the phone. Therefore Chris decided to go out that night and meet people. A coincidence that we met that night?
I hope you have enjoyed our love story! Also our pictures! We love to travel and have fun! Hope we win!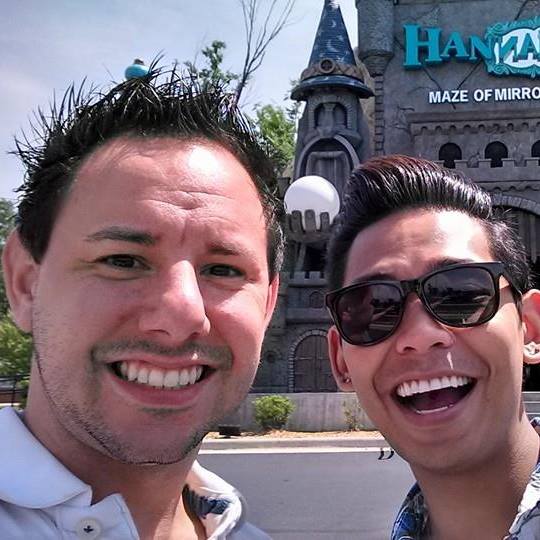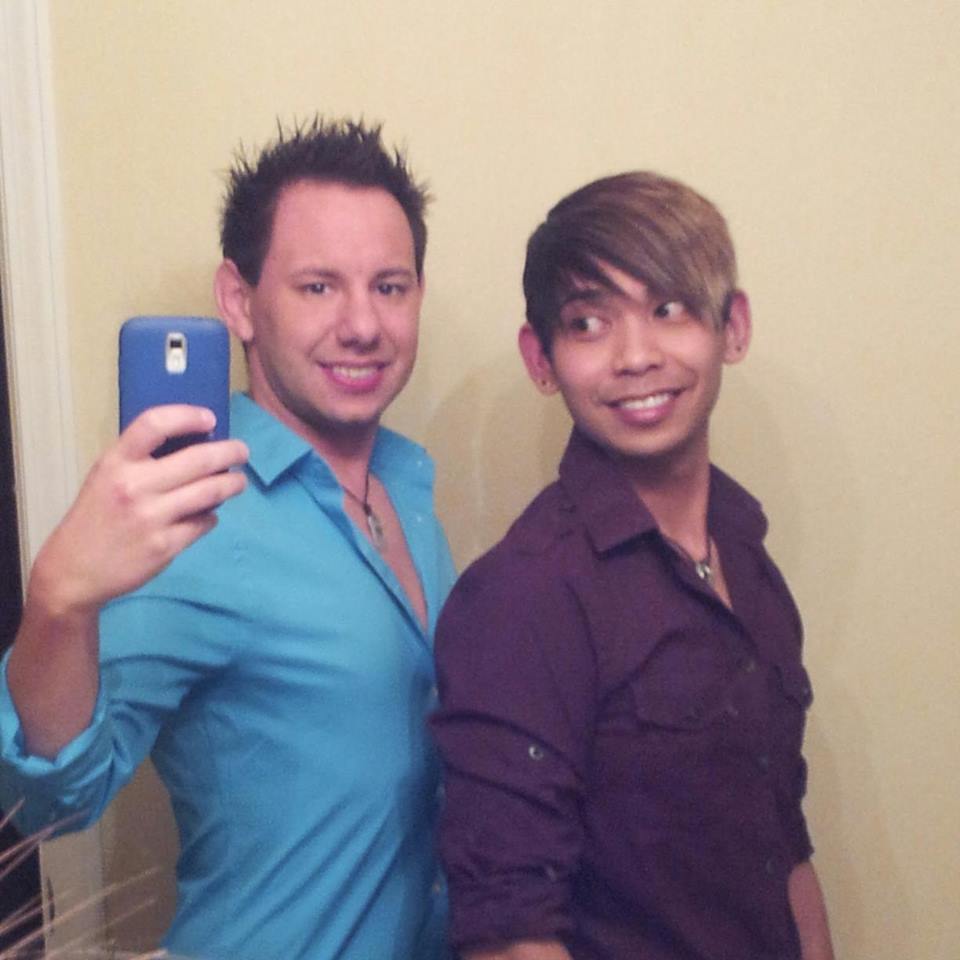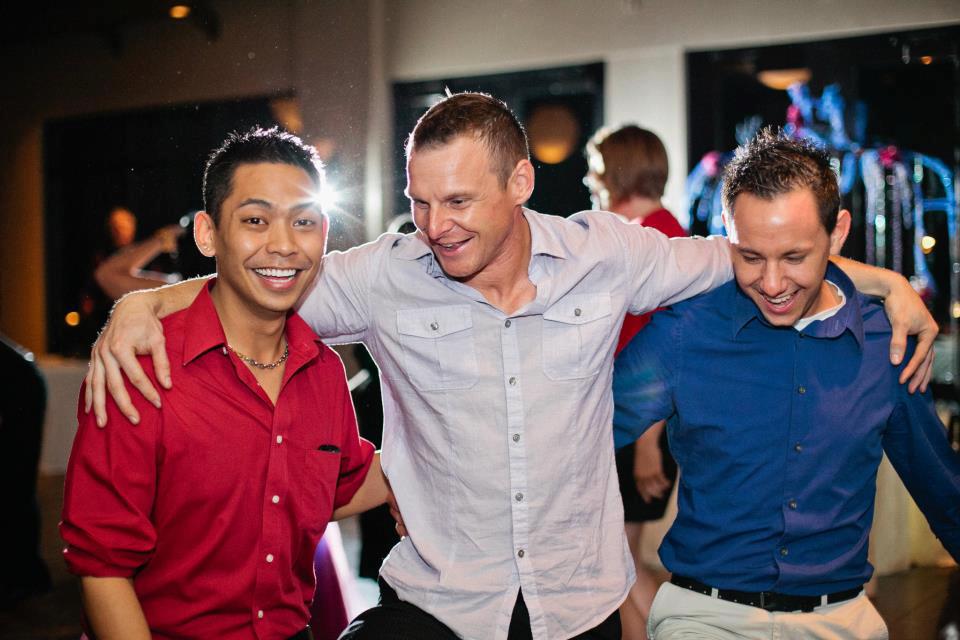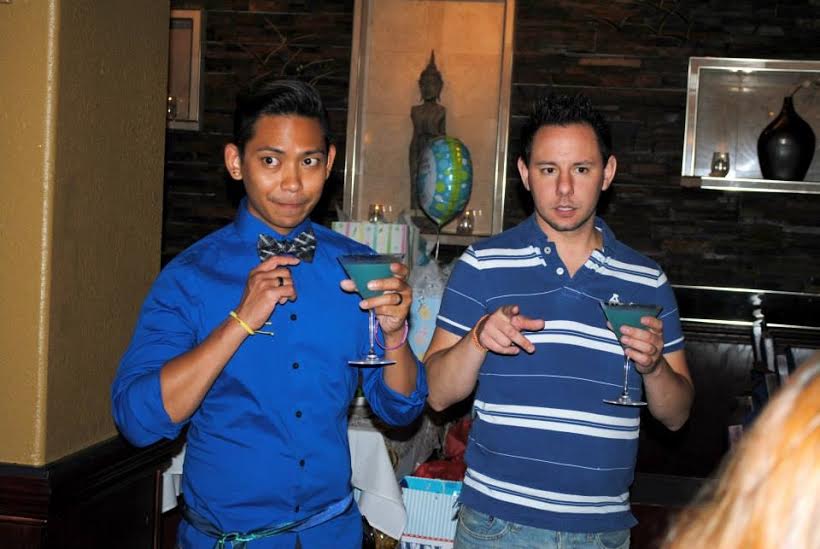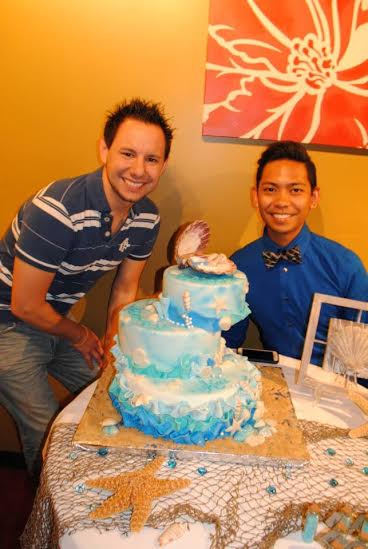 View All Giveaway Entrants:
Find Out More About The Wedding and Honeymoon Giveaway Sponsors:
Click on a Sponsor's Logo for More Information
EnGAYged Weddings' Social Media: