Succulents for Hire
Moab, Utah LGBT Wedding Floral Decor & Wearable Succulent Jewelry
Our arrangements ship beautifully across all contiguous 48 states~ Make your special day beautiful with living succulent personal flowers, ceremony decor, and table arrangements, all custom-made to manifest your personal aesthetic and turn your wedding vision into a reality
One of my favorite parts of every conversation with a new wedding client is when I share that their succulents can be replanted after the party is over.
This unique feature makes succulents the most sustainable wedding floral option available. It also makes succulents the most financially sensible wedding floral investment. Most people spend anywhere between $2000 and $10,000 on wedding flowers, and when the party is over, the flowers go in the trash.
With succulents, you can start a new "love garden" with your partner and keep growing your wedding floral investment for years to come. Succulents are drought-tolerant, eco-friendly plants that thrive in poor soil and partial sun.
Succulents bring a unique look and feel to any venue, and the best part? They last long after your big day.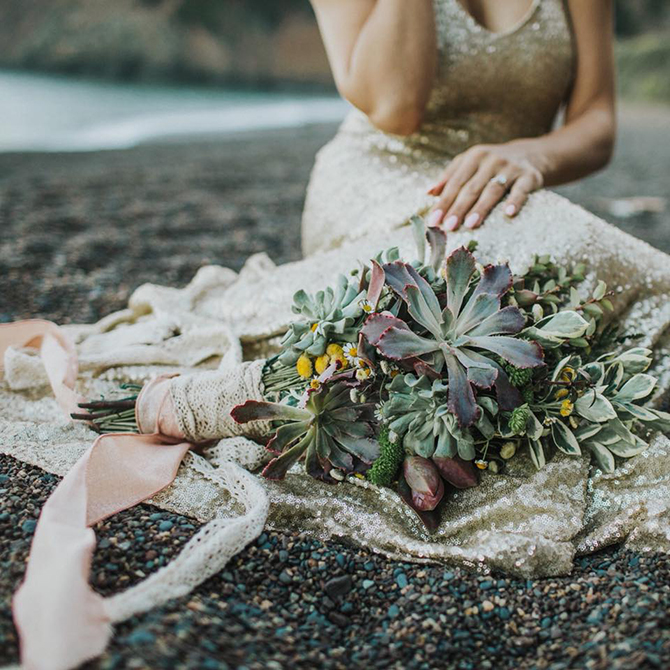 Local couples have the option of letting us create a custom arrangement out of bouquets or other decor. And if you're more of a DIY type, we'll share a PDF teaching you how to take your wedding items apart so you can plant your succulents yourself. This option works great for customers all over the country since our arrangements ship beautifully across all contiguous 48 states.
We offer full-service eco-friendly wedding floral in the state of Utah and can mail personal flowers (bouquets, boutonnieres, corsages, crowns, hair combs, jewelry, hoops) and centerpieces (in pine boxes) anywhere in the contiguous 48 United States.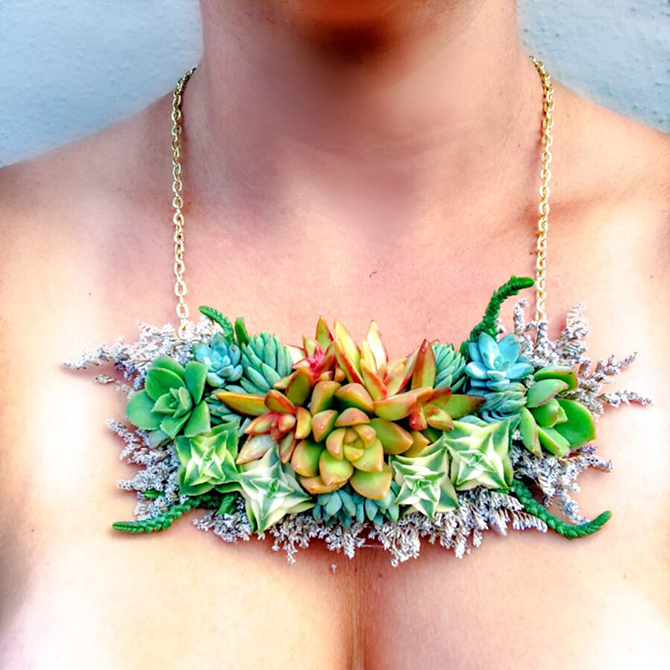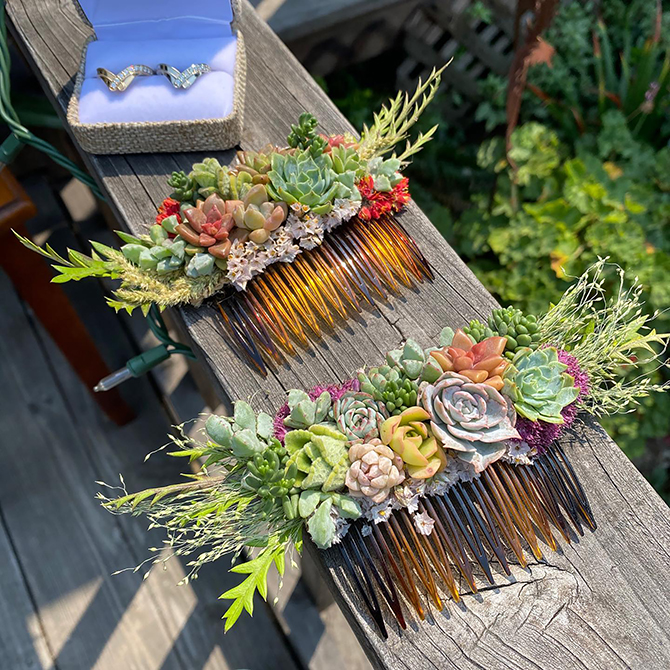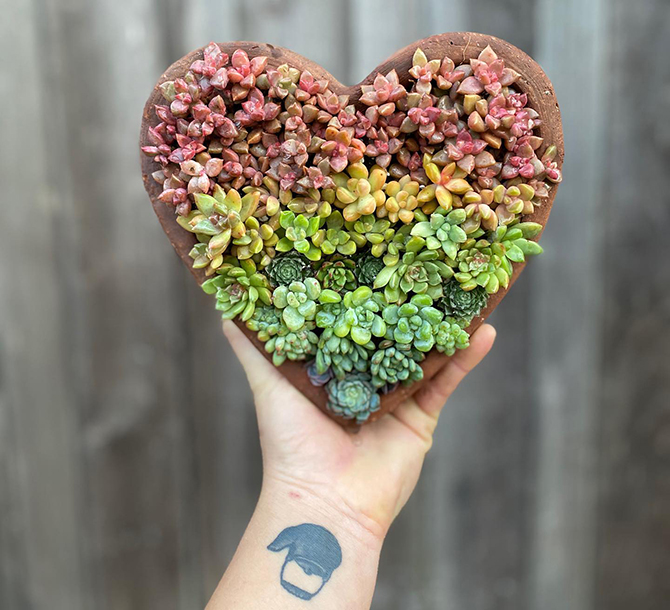 Succulents make for a more sustainable wedding experience than traditional cut flowers.
Not only are they drought-friendly, they can also be replanted after the party is over. Flowers are among the top ticket items in most wedding budgets.
Wouldn't you rather use that expense on live plants that you can keep and watch grow?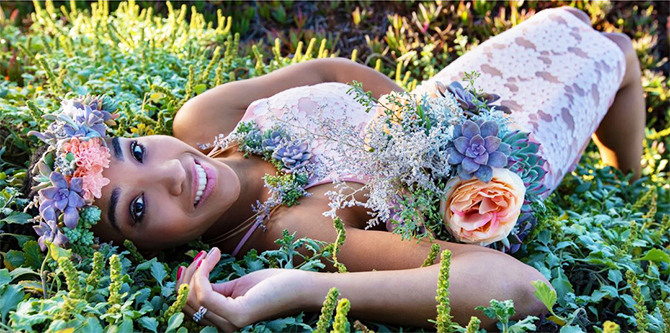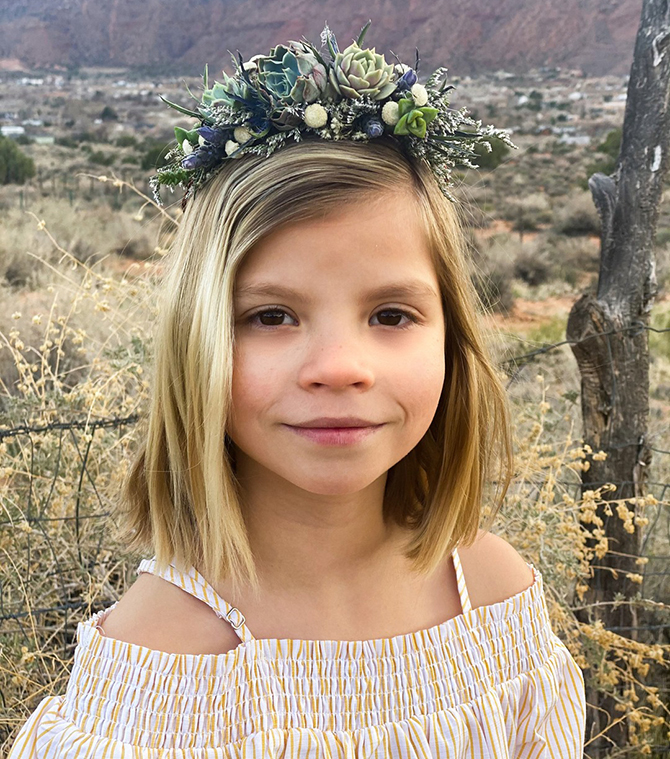 You've found your wedding florist! We offer eco-friendly, drought-resistant succulents that look amazing in every possible event setting, designed with your style in mind.
Succulents infuse unique texture, color, and dimension into personal flowers (bouquets, boutonnières, corsages, crowns, jewelry), ceremony pieces (altar and aisle decor), and reception decor (centerpieces, buffet and dessert tables). The possibilities are endless. Incorporating greenery, seasonal floral, and other natural elements into your succulent pieces adds volume and color, and helps you create a look unlike any other.
Design your look:
Choose the size, shape, and style of your bridal bouquet and bridesmaid bouquets.
Choose colors and individual varieties (if you know them. We can handle that if you don't!)
Compliment your succulents with fresh cut flowers, greenery, or other natural elements.
Include natural objects like feathers, fiddlehead ferns, seed pods, driftwood, or shells in personal flowers, centerpieces, tablescapes, ceremony, and reception decor.
Keep your wedding flowers forever by opting for our custom replanting service.
For local couples, we will take back your bouquet or whatever arrangement you'd like to use and replant the succulents into a pot that you can keep to remember your special day forever. For couples all over the country, we'll send instructions for how to deconstruct your bouquet and plant your succulents.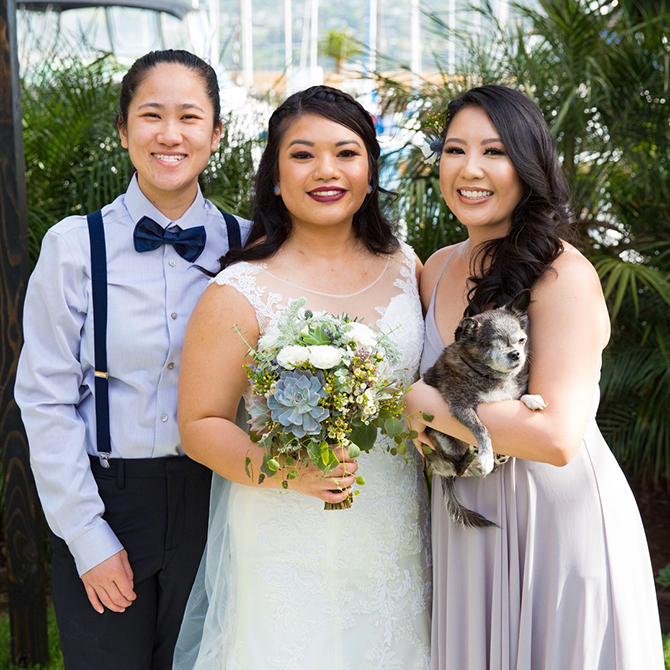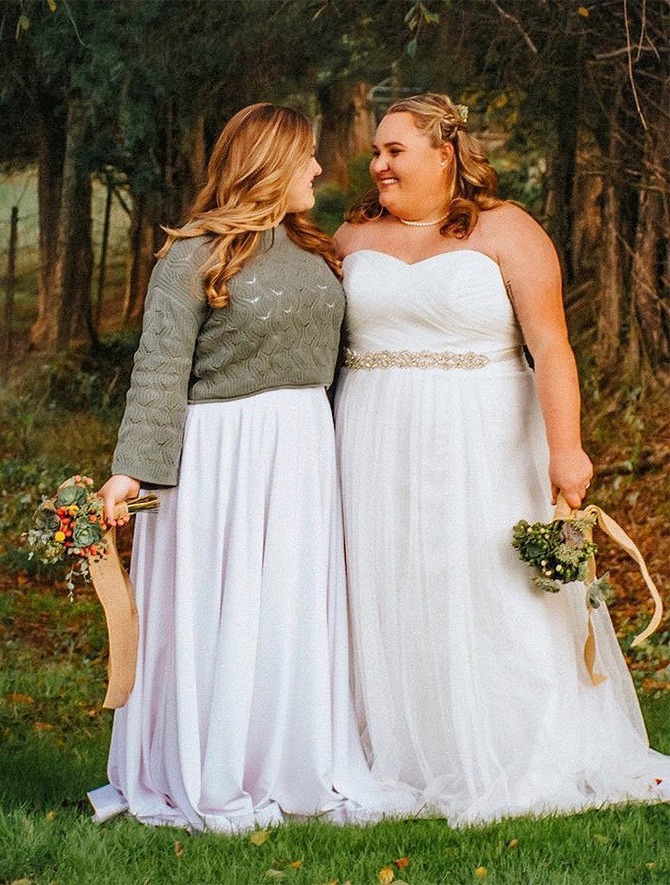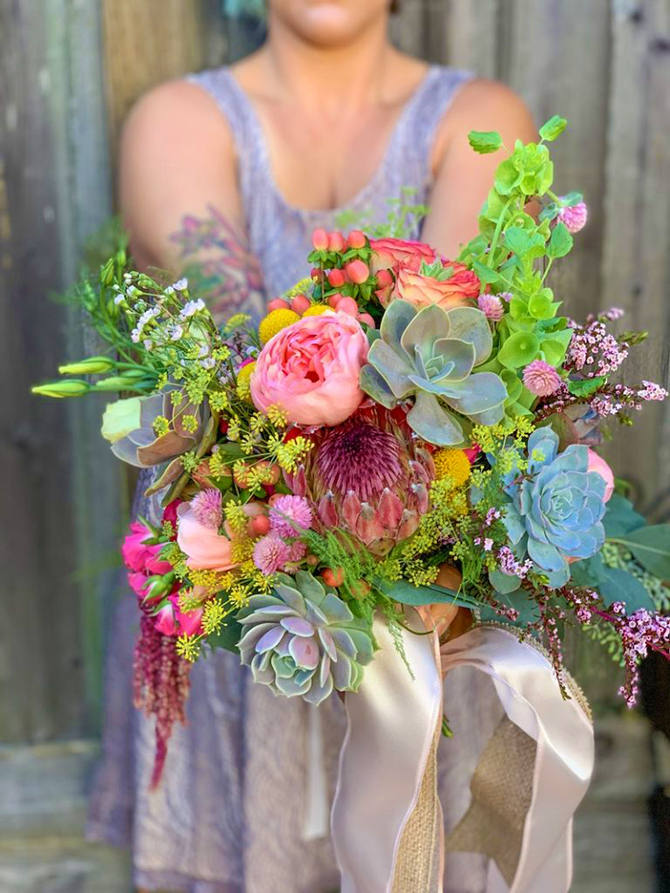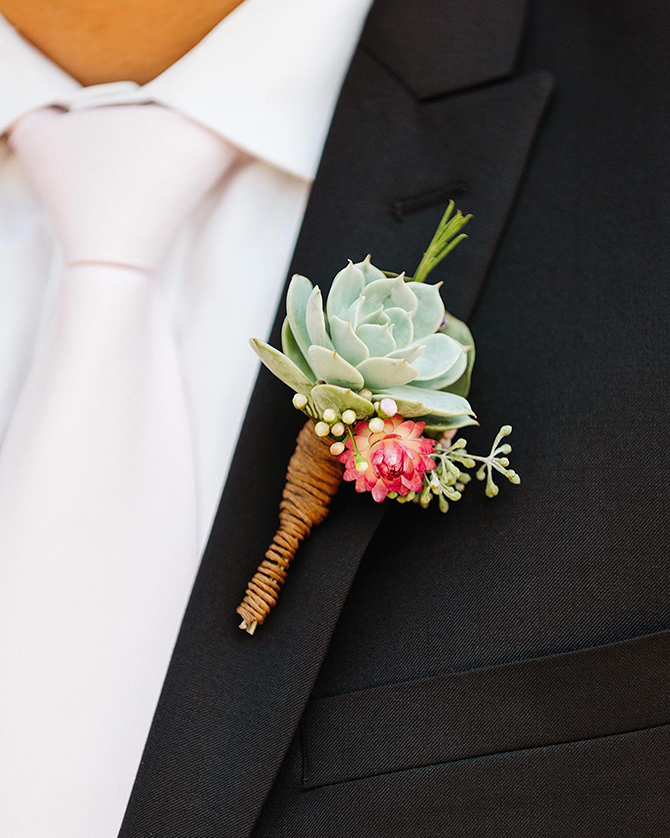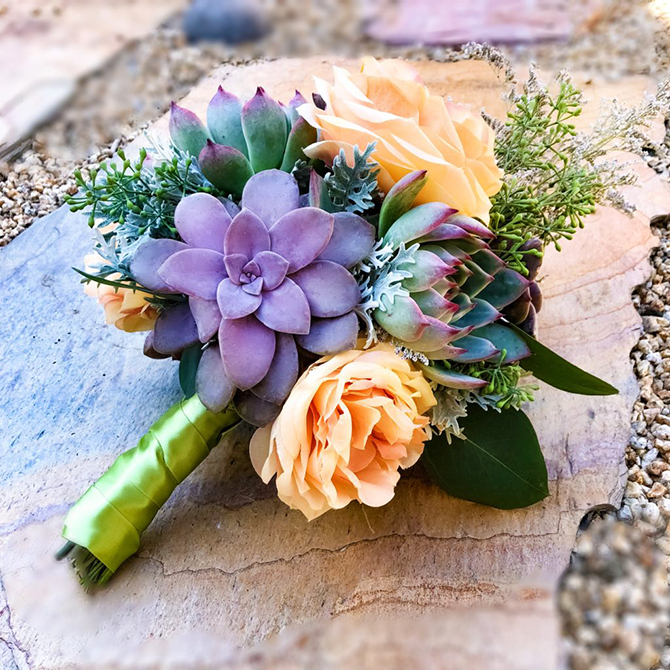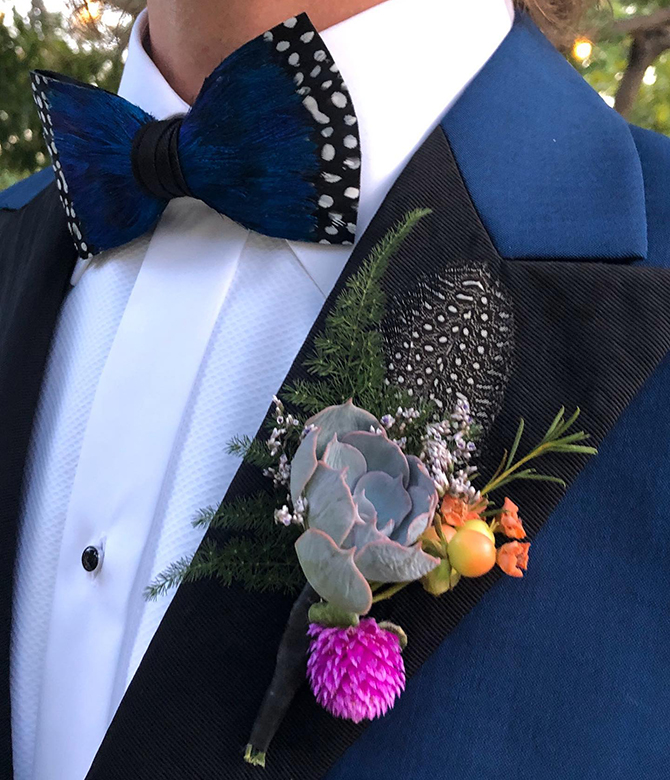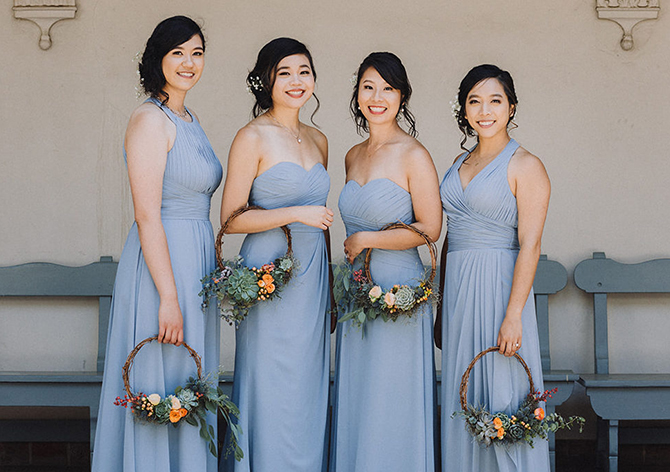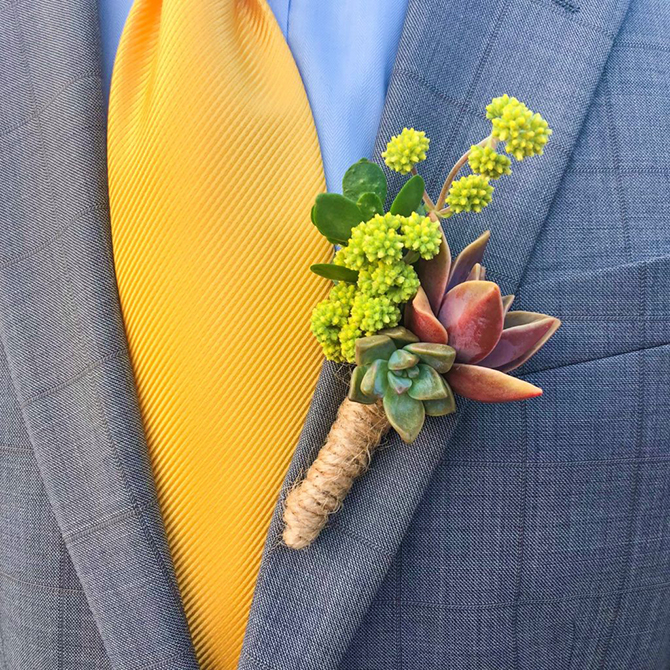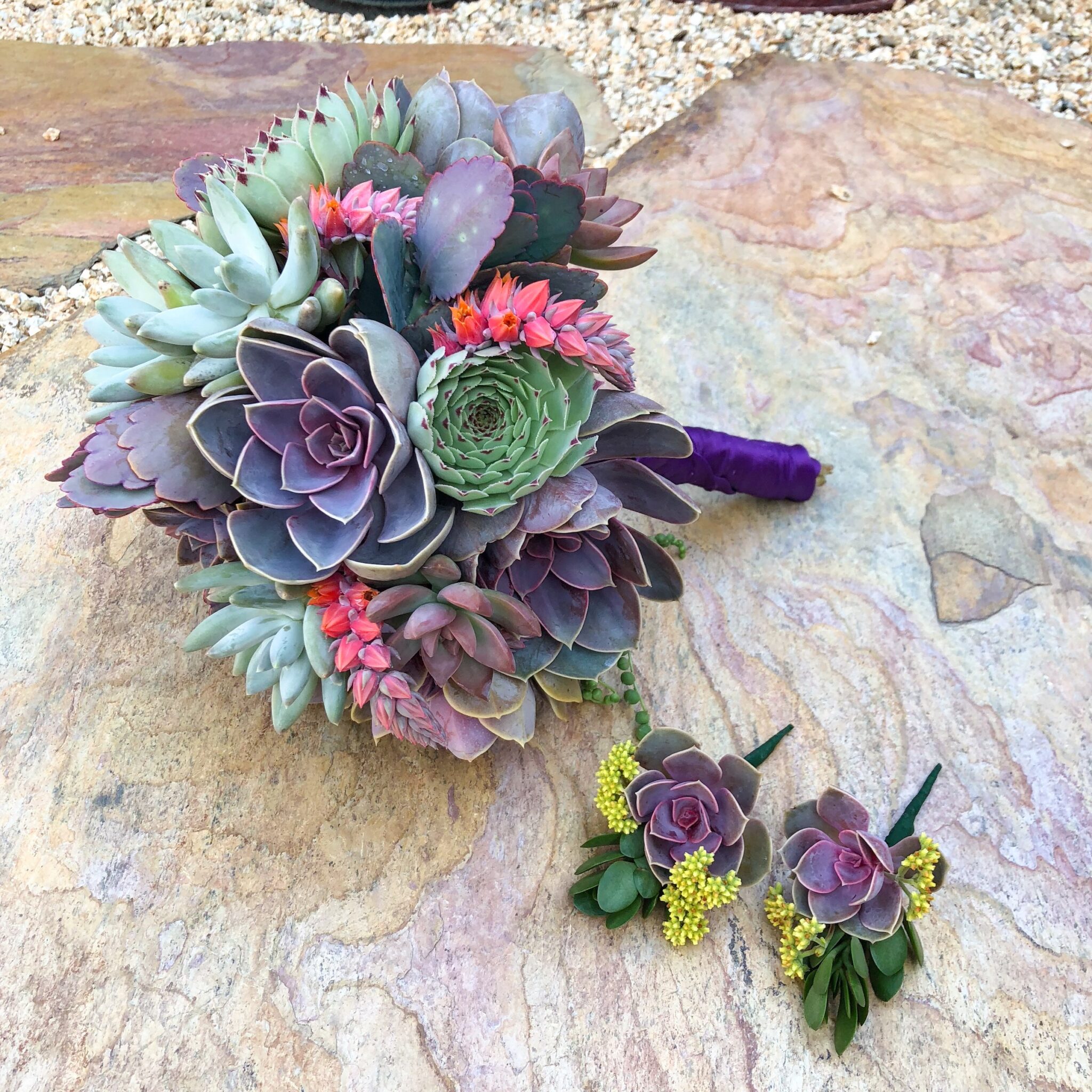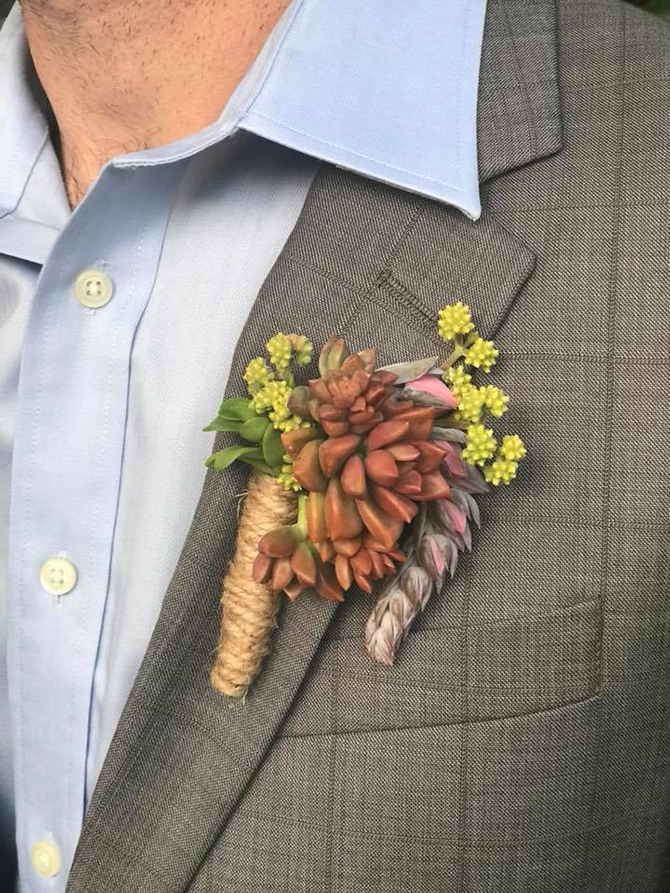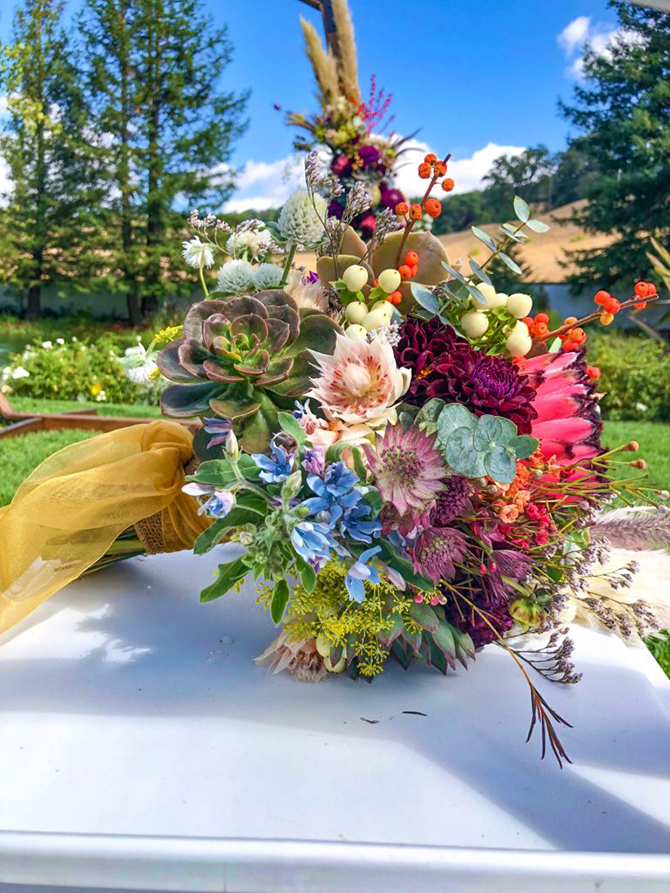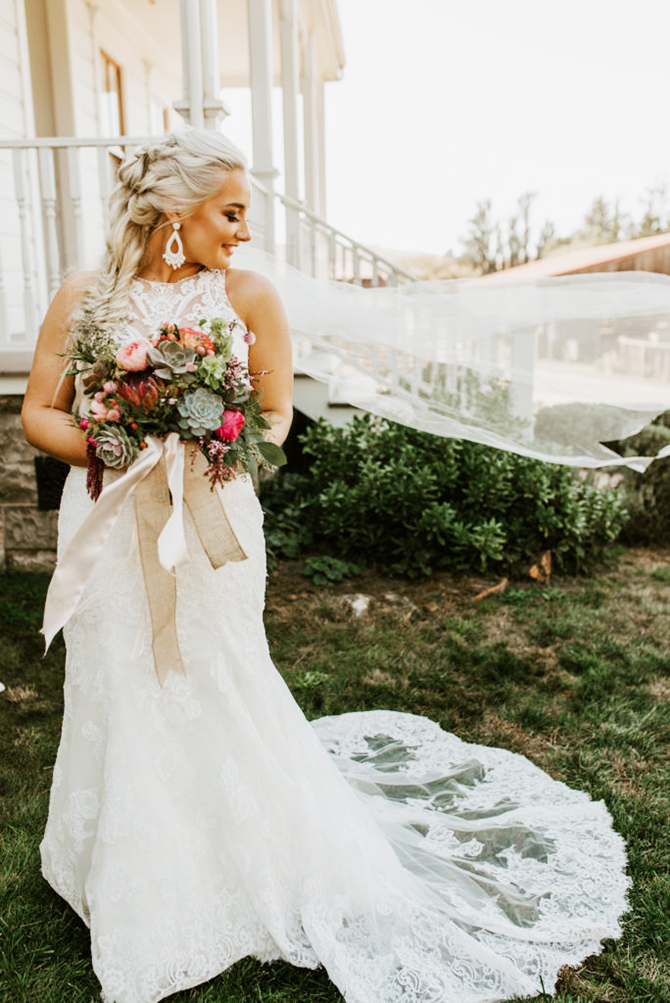 Succulents Do Double Duty
The best way to get the biggest bang for your buck is to assign them double-duty:
Make a wedding favor out of your guests' name cards with a cork micro planter or small potted succulent.
Opt for multi-part centerpieces, so that guests can take home their favorite part.
Use succulent wreaths as aisle decor and share them with your guests at the end of the party.
Give your bridesmaids the gift of living succulent jewelry and bouquets or hoops that they can replant after the party.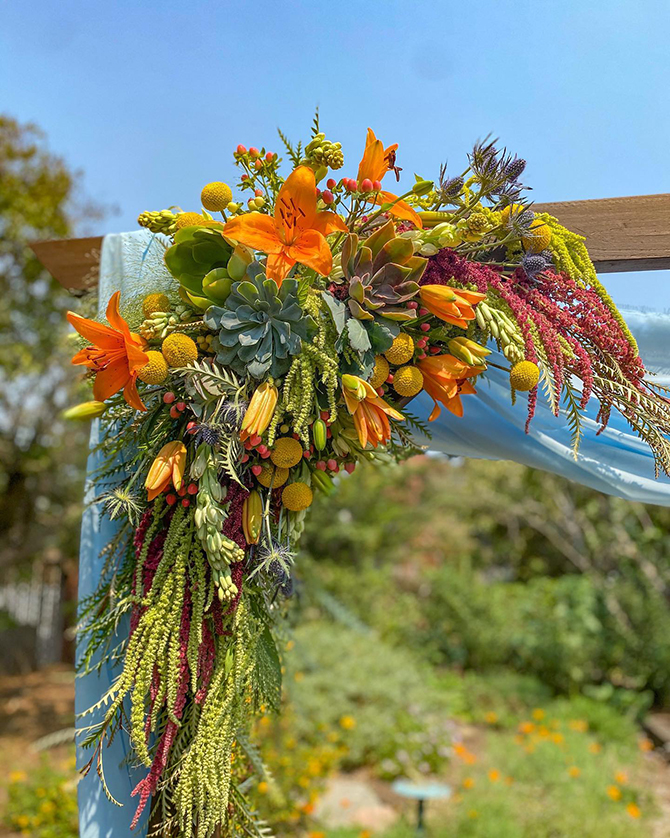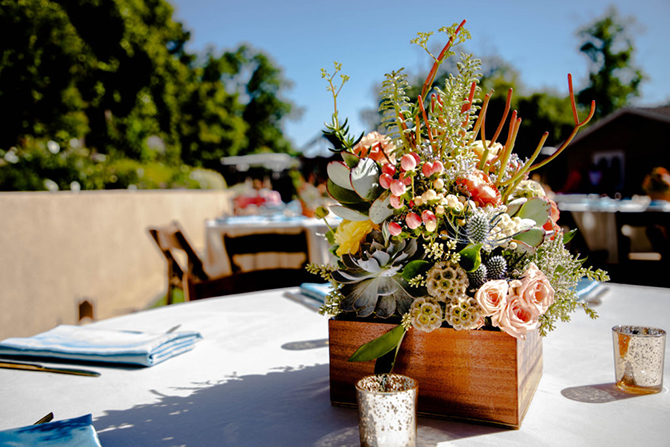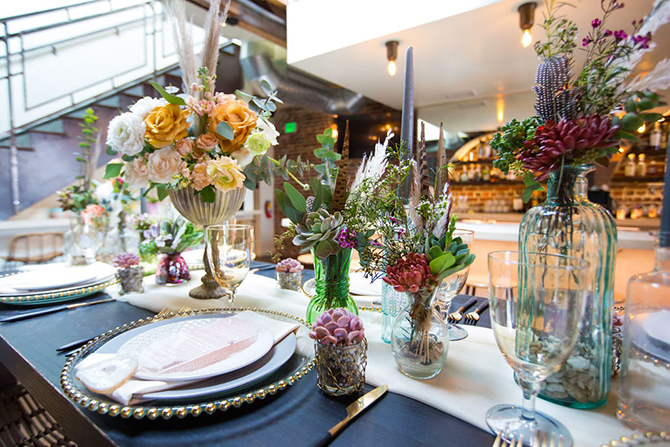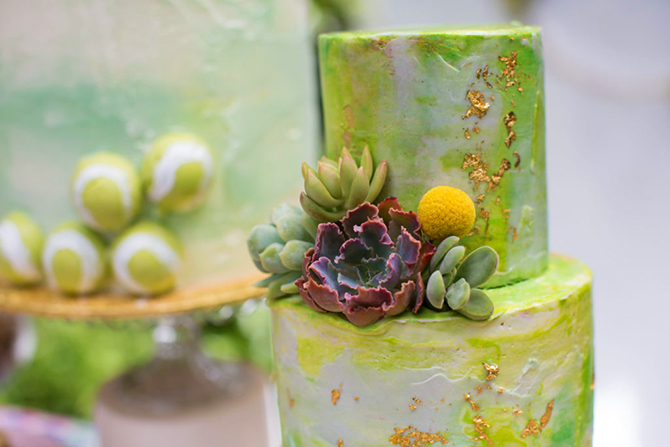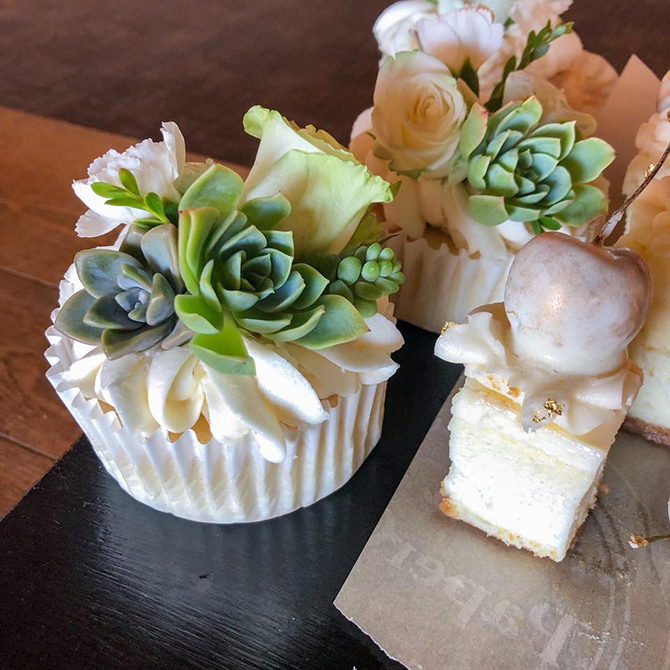 Wedding Floral Accessories for Your Furry Family Members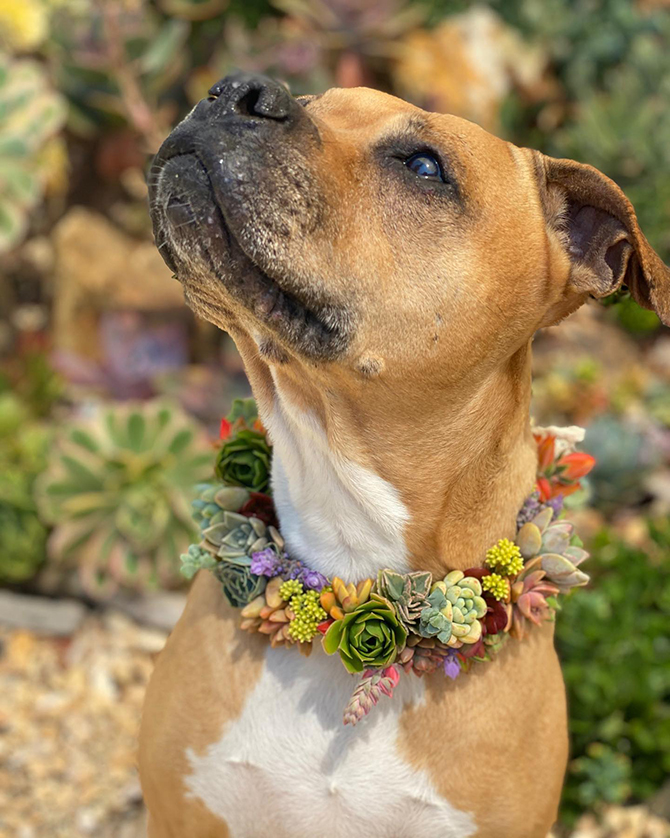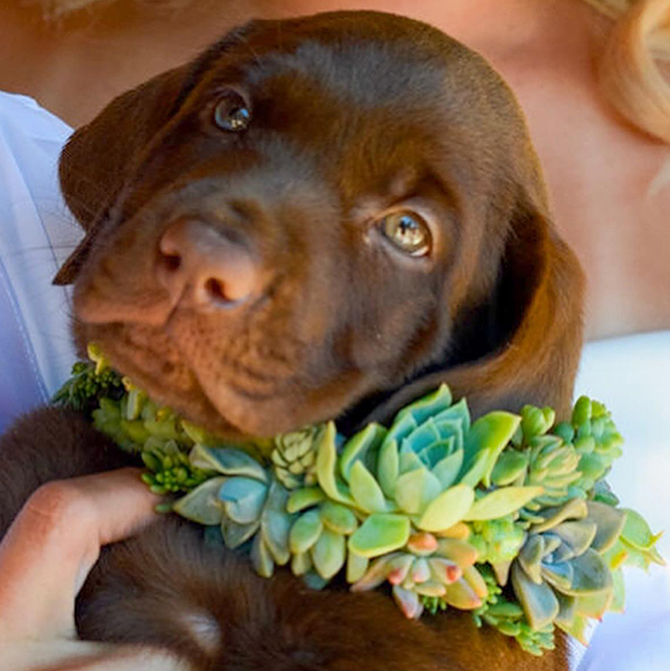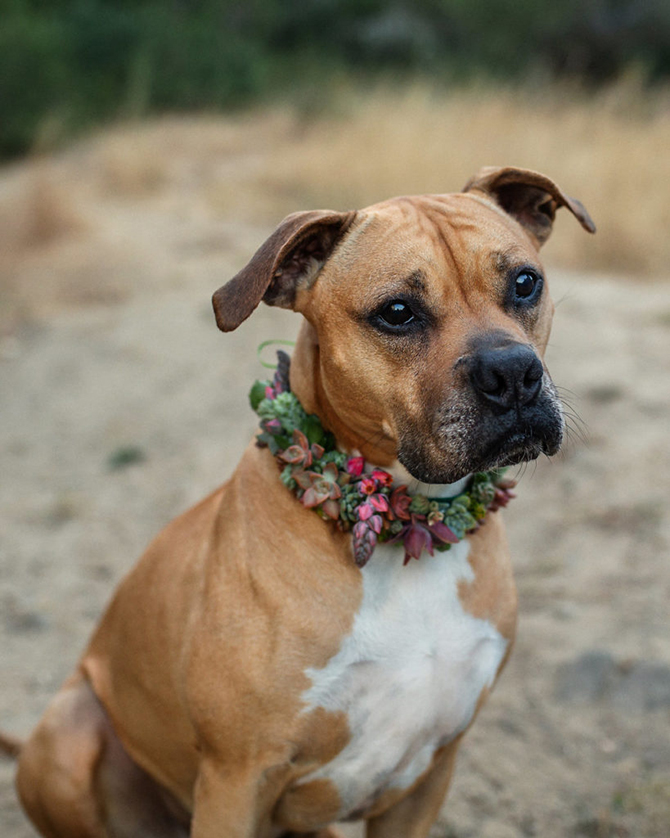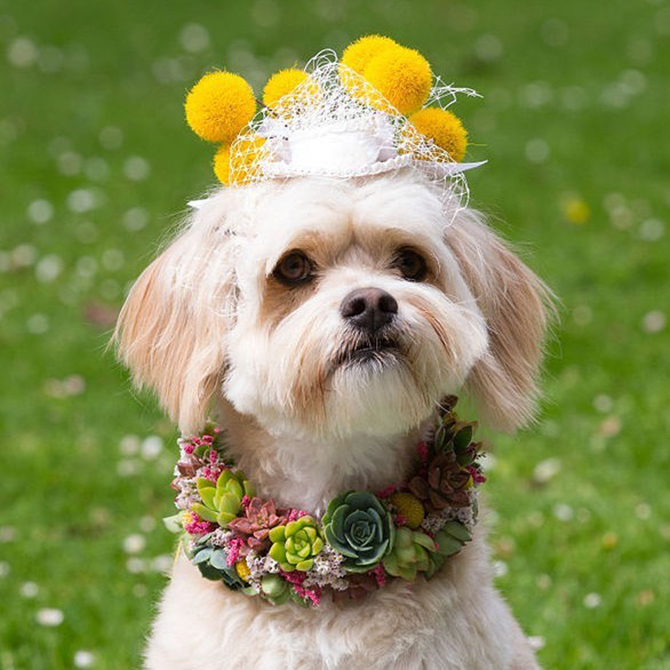 Toni Sicola, aka "The Succulent Lady" (Founder)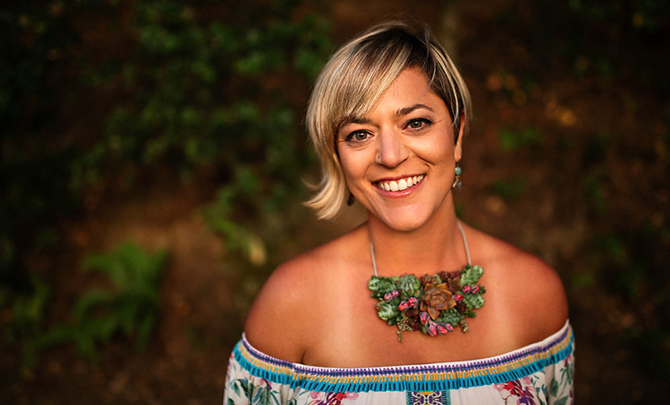 Our first corporate client dubbed me "The Succulent Lady," and so far, it's stuck.
My passion for succulents has grown from a casual interest to a full-blown obsession, culminating in the launch of Succulents for Hire in 2017. Creativity has been my driving force for most of my conscious life. Whether in visual arts, writing, or music, I have been making things for as long as I can remember.
Succulents are my most powerful muse, inspiring me to create unique decor for weddings, events, restaurants, parties, and corporate offices. We also offer workshops so you can get to know these wonderful plants yourself.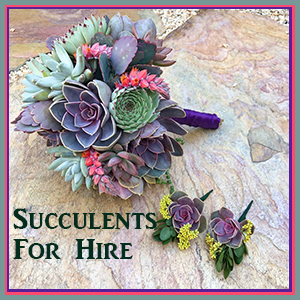 Visit Vendor's Website:
Call Vendor:
435 200-3187
Contact Name:
Toni Sicola
E-mail Vendor:
Vendor's Social Media:
Vendor's Address:
Moab, Utah 84532