Reverend Bonnie J. Berger - Ring in Love
Lesbian Minister for Same-Sex Ceremonies
Lesbian-Owned Business Officiating LGBT Weddings in North Carolina
Lesbian minister - Part of the LGBT community for over 30 years
My job is to make your day easy and effortless and provide all you need for your perfect ceremony. Spiritual or secular. All faith traditions honored. It is my honor to be of service to you - to lift and affirm your love and to create a personal and loving ceremony for you.
Of our community - for our community!
Congratulations!! You are getting married. What a beautiful time of your life! I am Rev. Bonnie —and I am here to be of service to you. My job is to make your wedding day ceremony easy.
Having officiated at over 700 ceremonies (including the very first same-sex marriage in DC the day it became legal in 2010) I know how important it is to feel comfortable and confident in your officiant. I develop a deep and personal relationship with my couples. I get to know your love story and lift and affirm it during the ceremony. I serve as a resource for you—supplying you with samples of vows, ring exchange wording, readings, and rituals. Your ceremony can be as spiritual or as secular as you wish. I am an ordained Interfaith Minister (not a "buy my credentials off of the internet" minister!), and I honor all faith traditions.
I welcome, celebrate, and am honored to be of service to our community. Love is to be cherished and affirmed—and as an openly gay officiant—it is my delight to be available to you.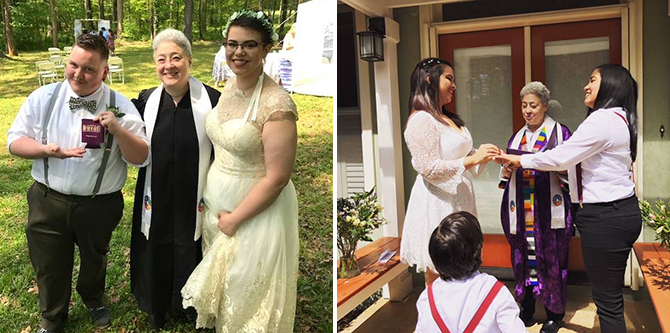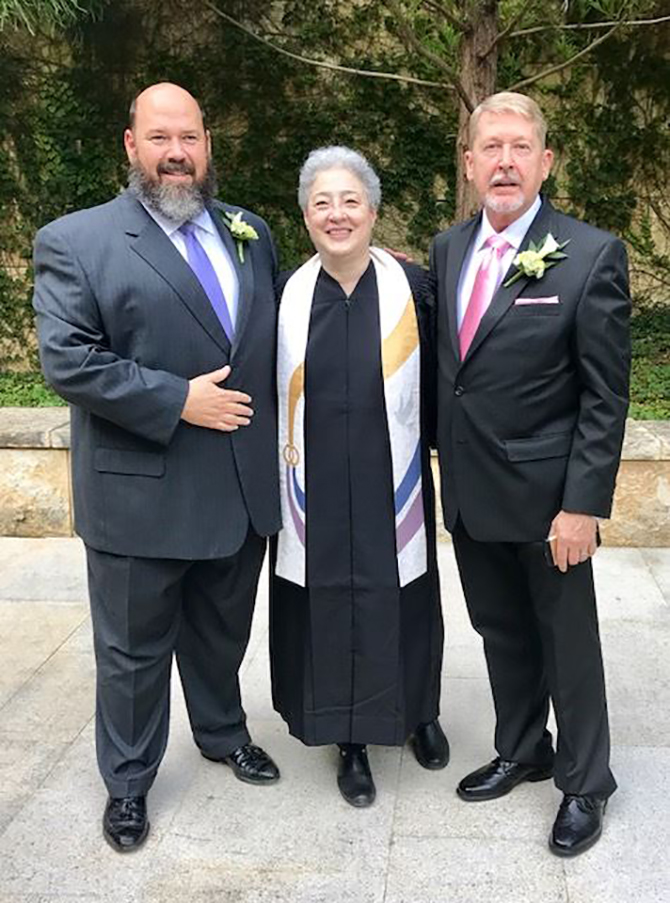 ABOUT REVEREND BONNIE
I have been on a spiritual path all of my life. Recognizing and believing in the innate worth and sacredness that exists within each of us, my initial efforts were directed towards the raising up of battered women and all women. While working as a staff member at a national women's organization, I began to "connect the dots" between all of the civil rights movements. For the next 20 years I devoted myself to building bridges of understanding and acceptance between diverse communities. My consulting firm reached thousands of people and helped scores of organizations address some of their most challenging diversity issues. In addition to my business, I was very committed to securing equal rights in my community. I served as co-chair for the Free State Justice Campaign, which was the predecessor organization to Equality Maryland—Maryland's preeminent LGBT civil rights organization. Humbly, in March 2001, I was one of twenty county residents (and the first openly gay person) honored by being inducted into the Montgomery County Human Rights Hall of Fame.
Accepted as a student at the Inner Visions Institute for Spiritual Development, I began studying under founder and director Iyanla Vanzant in 2003. Following this two year odyssey and time of personal growth and discovery, I was called to attend The New Seminary in New York City as an accelerated student, culminating with my June 2006 ordination as an Interfaith Minister.
As a Wedding Officiant and Interfaith Minister I continue to "connect the dots" between all people of faith (or those who choose not to have a faith path), one person at a time and one couple at a time, with patience, openness, and true caring. I maintain a vision of love, purpose, and compassion.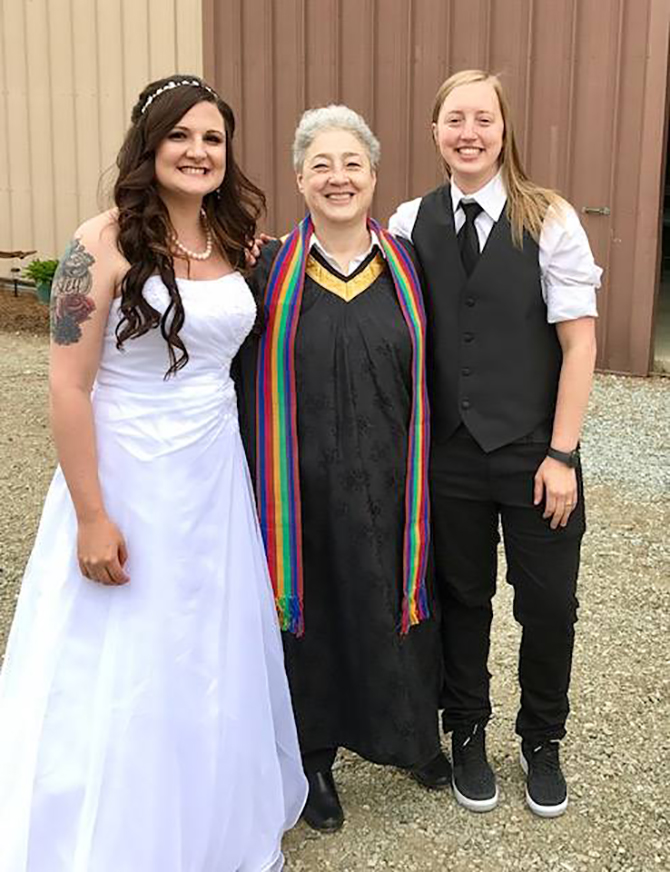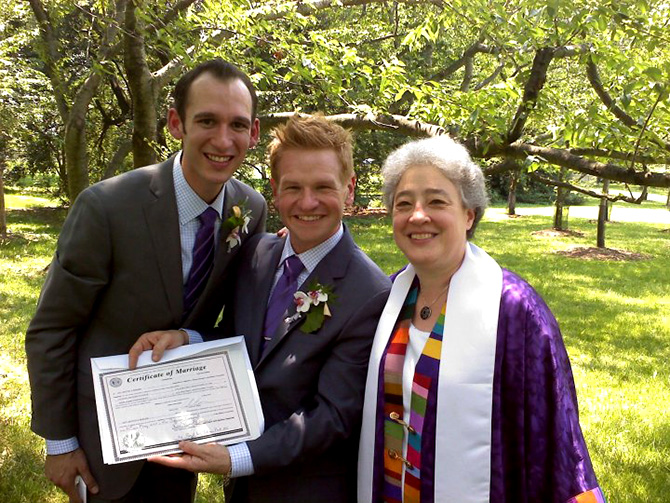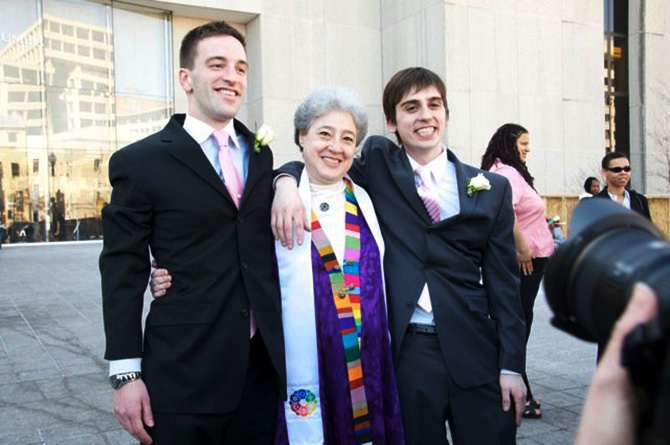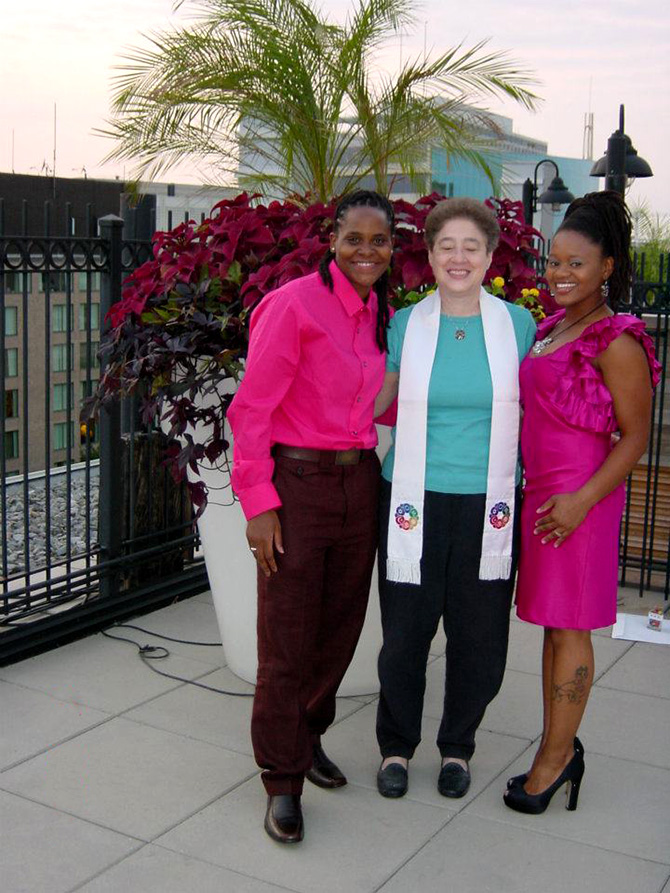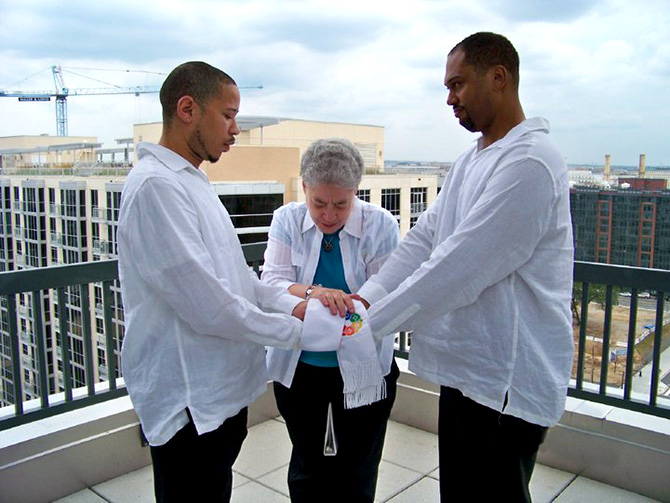 What Couples are Saying:
Katie and Kris: Rev Bonnie was amazing. All of our guests commented on how moving her ceremony was. We planned our wedding from California and since we were unable to meet her in person, we scheduled a meeting via Skype so she could get to know us. During her ceremony she spoke about my wife and I as if she had known the two of us for years. She was also extremely flexible with us. We added a rehearsal at the last minute and Rev Bonnie was able to be there. I will absolutely recommend her to everyone I know!
T and C Rev. Bonnie was very personable, professional, and took the time to get to know us and tailor our ceremony to be unique to us. We received many compliments on her performance of our ceremony. Rev. Bonnie took the time respond quickly to any questions we had and reminded us to breathe. She was also available with suggestions to help in planning our wedding from afar. We appreciate how she made our day about us and helped in making it absolutely perfect in every way. With her sensitivity and care it is not surprising she was the #1 Wedding Officiant in the DC area!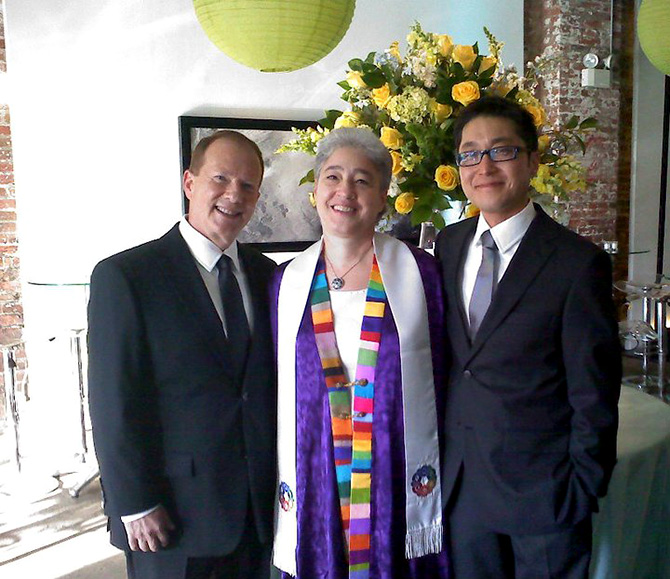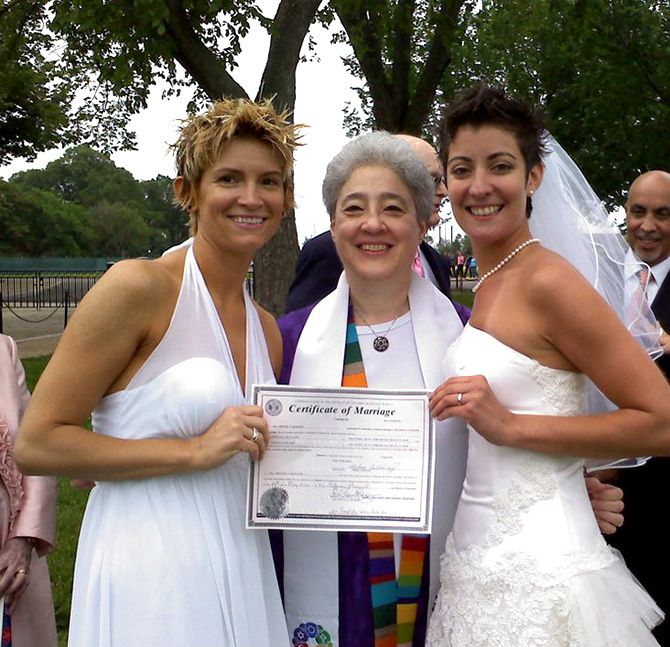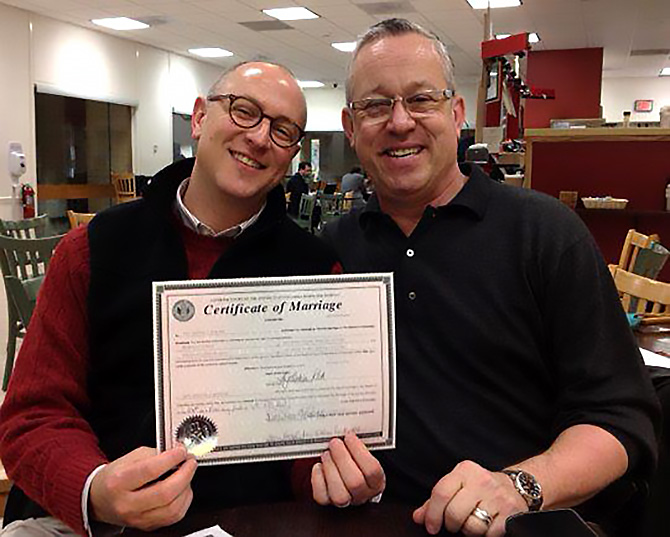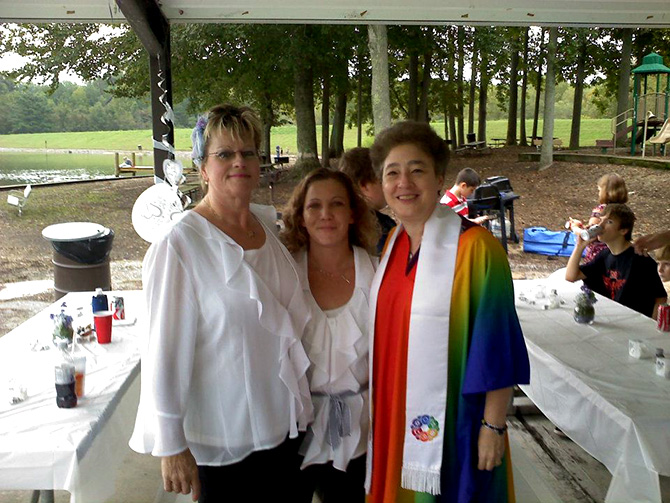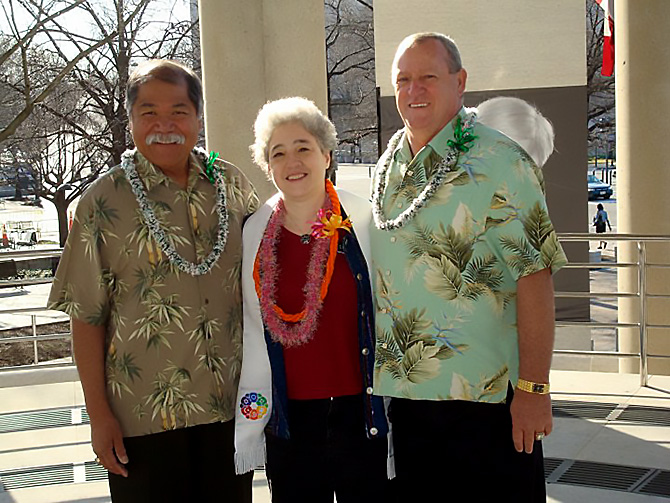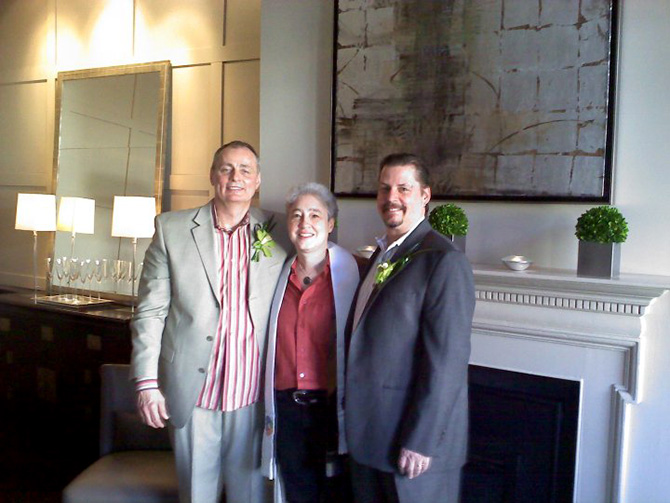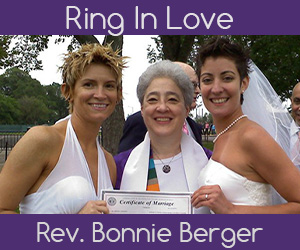 Visit Vendor's Website:
Call Vendor:
919-869-7425
Contact Name:
Rev. Bonnie J. Berger
E-mail Vendor:
Vendor's Social Media:
Vendor's Address:
Chapel Hill, North Carolina 27516
Member Since:
December 2012

Visit Vendor's Website:
Call Vendor:
919-869-7425
Contact Name:
Rev. Bonnie J. Berger
E-mail Vendor: