All Ceremonies Beautifully Done
Reverend Marian Hale
Interfaith, Buddhist, Christian, Civil Ceremony, Commitment Ceremony, Jewish, Muslim, New Age, Nondenominational, Spiritual
~ All Ceremonies Beautifully Done ~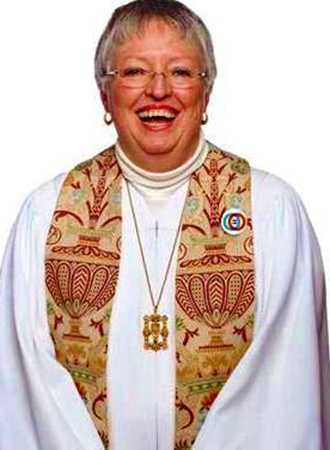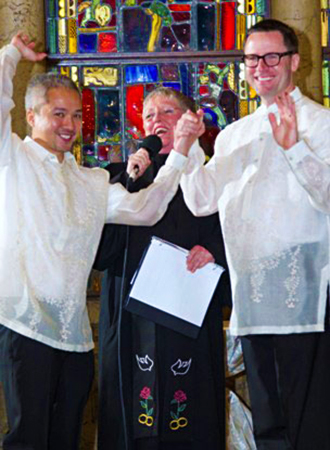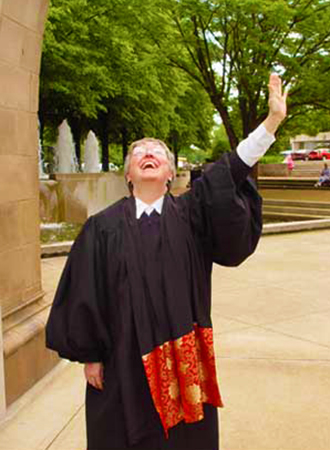 My First Gay Wedding
An Excerpt from Reverend Marian's Blog: Heading out to my first gay wedding, I felt oddly nervous. I had been an interfaith wedding Officiant for over two years at that point, and very comfortable with the entire process. So the nervousness was surprising.
The anxiety arose from what I had learned about their family relationships. One partner's mom and dad, although divorced and living in different parts of the country, were flying in to support their son on his special day. The other groom's mom and siblings lived down the street from where the ceremony was taking place. They had decided not to come, stating their reasons in no uncertain terms. So I was concerned they might try to crash the celebration, and feeling very protective of my two grooms.
Everything went off beautifully. We had met several times to create a script that truly reflected their relationship – and one of the things they included was a flower ceremony. This is a lovely option for a smaller wedding (fewer than 50 guests). On a table up front sat a large crystal vase filled with water, and lying beside it, long stalks of lilies and roses. Soon after the wedding began, I invited everyone present to come up, add a flower to the vase and share a hug or a few words with the couple. I mentioned there was no pressure to participate – the grooms had been very clear that no one be made uncomfortable by this.
Several friends came forward and spoke with depth and passion about these two young men and their wedding day. Then the father who was present stepped up to the front. He chose a flower, turned to his son and said the words that, up until that moment, he had not said.
You see, even though he had flown many miles to be present, he had not yet been able to accept fully that his son was marrying another man. But with the rose in his hand, the formality of the occasion and the magic of what was happening finally got to him. The words that emerged were words of love, complete acceptance and full support. And the tears flowing down his face added weight to these words, as did the long hug that he and his son shared.
Every time I tell this story or even read it, I choke up. It was a wonderful, transformative and deeply affecting moment.
After the wedding, I stayed for the reception, unusual for me. It was lovely to chat with the friends of this young couple, and to find out that, for many of them, this was their first gay wedding too. One sweet man came up to me, holding the hand of his partner, and said: "I really didn't know what to expect. Some of the people I work with told me this would be a joke.
But it wasn't, it was beautiful. Thank you so much for what you do!" But I was the grateful one. And as one of the grooms stood waiting for their limo, I went up to him and said: "I'm so sorry your mother decided not to be with you today. I know she would have loved this."
He thoughtfully replied: "Yes, I think so too. But I accept that she's doing what she feels is right for her, and only hope that one day soon she'll be able to come visit us, spend time with us."
I took his hands in mine, and told him: "I want to let you know that, if you were my son, I would be very proud of you!"
That night, sleep came reluctantly — it had been an exciting and stimulating day. I finally drifted off, and when I awoke the next morning, the world had shifted.
The words that came almost immediately are these:
For a legal (hetero) wedding, there can be all kinds of reasons, agendas if you will, for this event to be taking place. There can be a baby on the way, pressure from the family, even pressure from the church. There can be tax reasons, other financial reasons – or even a Green Card!
For a gay wedding, none of these agendas apply. It happens because two people want to stand side by side and be witnessed making a life commitment to one another, that's the only reason for it. And this is so clean, so pure, so simple – I love assisting couples with their commitment ceremonies, holy unions – whatever these ceremonies are called. Personally, I call them weddings!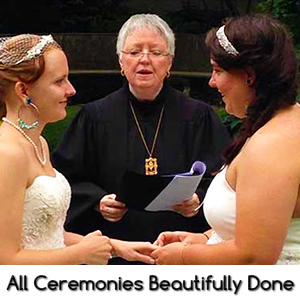 Visit Vendor's Website:
Call Vendor:
(847) 491-0603
Contact Name:
Rev. Marian Hale
E-mail Vendor:
Vendor's Social Media:
Vendor's Address:
Evanston, IL 60202
Member Since:
March, 2010

Visit Vendor's Website:
Call Vendor:
(847) 491-0603
Contact Name:
Rev. Marian Hale
E-mail Vendor: