Barbara Ann Michaels - Jester of the Peace
New York City Licensed Interfaith Officiant for Gay and Lesbian Weddings
Specializing in Creative Personalized Ceremonies, Adventure & Costume Weddings in New York & Beyond
Your Love Is Equal, Unique, & Joyful
Barbara on Marriage Equality
Love is love. Your bond with your partner is beautiful, equal, important, natural, and joyful. Your marriage strengthens the community you live in. Your love and union inspire others to love more truthfully, too, and with more ease, and more fun.
Since New York State, and now the USA, have legalized same-sex marriage, I have had the honor and joy to marry gay and lesbian couples together 37 years, 25 years, 17 years and more, and new couples, too. I marry LGBT couples from across the world and around the United States, and our New York locals in love.
Our freedom to love is a basic human right, central to our freedom to live. I stand with you for Worldwide Marriage Equality in surety and joy!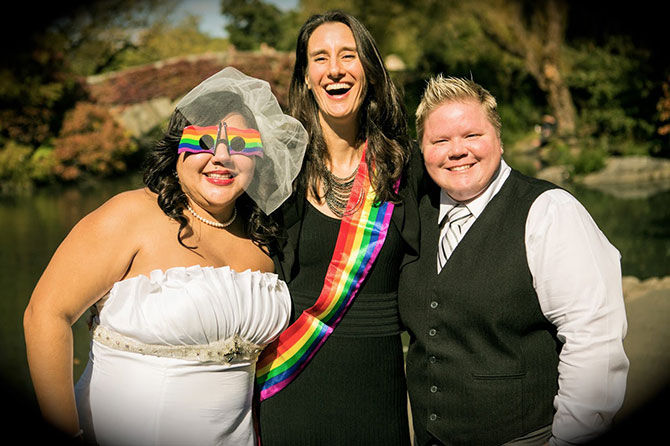 The day Massachusetts passed Marriage Equality in 2004, I was up most of the night on May 16th at Cambridge City Hall, cheering friends who got their wedding license at 3am on May 17th. I have walked (and biked, danced, and clowned!) in numerous Pride Marches in New York, Maine and Massachusetts since 1993. In NYC Pride each year since 2010, I participate as the Jester of the Peace, "marrying" enthusiastic same-sex couples from the crowd all along the route in sweet and fun little ceremonies.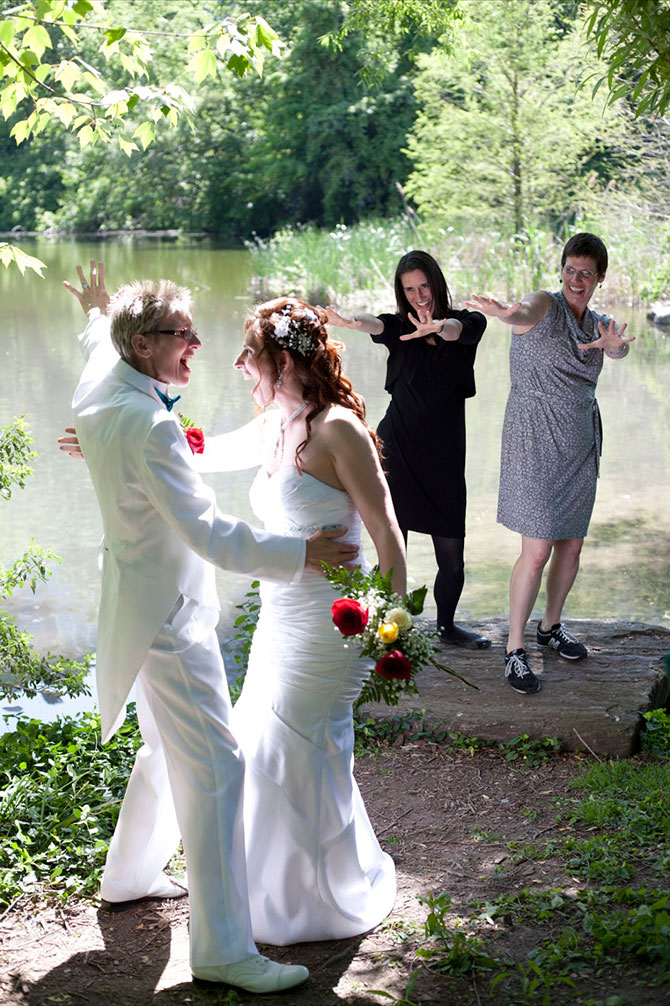 What Makes a Gay and Lesbian Wedding?
Some of my LGBT couples ask me, whether together for decades or years, "We're getting married, what do we do?!" And some couples know just what you want! Your wedding is an artful expression of who you are, both as a couple and as individuals in love. The promises you make in your ceremony are the foundation of your marriage ~ your home. So, what you do... is be true!
I'm your Officiant and your friend in this process. We create a personalized ceremony that honors the truth and treasure of your unique union. You'll experience an inspired custom wedding you help design ~ from elegant to sweet to playful!
You'll incorporate elements as they feel authentic to you: traditions you hold dear, contemporary elements, including possibly inventing your own, roles for family and friends, music, and more. If your marriage is intercultural, you can enjoy a bi-lingual ceremony. Including spirituality is up to you based on what's true for you. I embrace interfaith and secular unions. I welcome your creativity as part of how you love, including adventure and costume style weddings. You'll enjoy total freedom and total support with me. In love, we are "all of the above."
With warmth, attention, and professionalism, I bring my love to your love. You'll feel uplifted, relaxed and in love as we build your wedding ceremony together!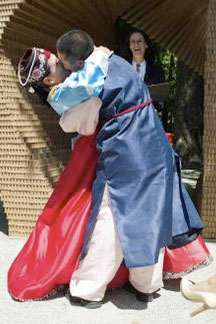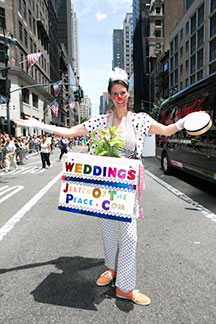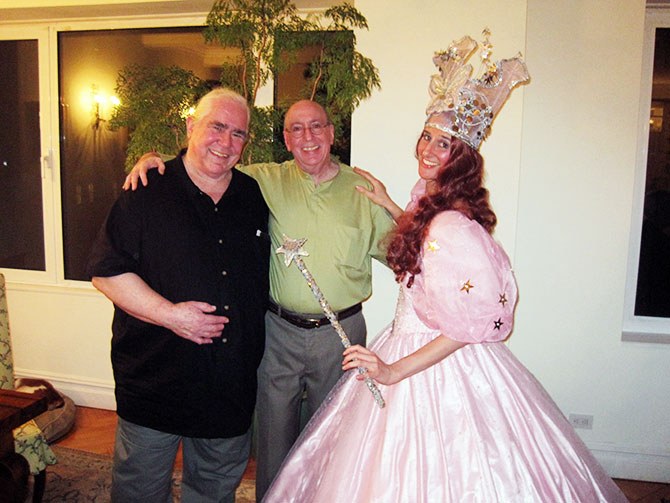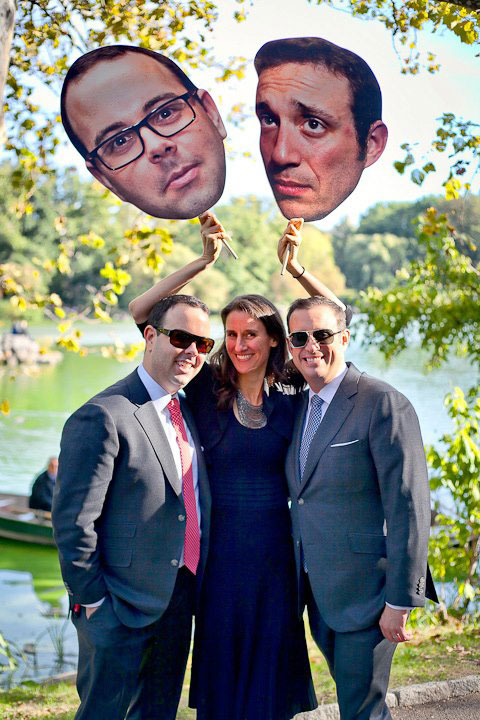 Where Can We Get Married in New York?
If You Can Dream It, You Can Do It
What's your wedding wish? I've performed marriages on The Learning Channel's Four Weddings reality show, in a flying helicopter, in lovely Central Park, in the rehearsal studio of the Alvin Ailey dance company, on the sidewalk in front of Tiffany's jewelers, on the Brooklyn Bridge, on apartment rooftops, in community gardens, a grand church, a living room, numerous chic restaurants, and cross-dressed as Elvis in the New Year's snow for a disco wedding featuring roller disco skaters and covered by the NY Daily News. I can help you with ideas and referrals for any part of your wedding celebration. I will happily send you to wedding pros I respect and personally enjoy.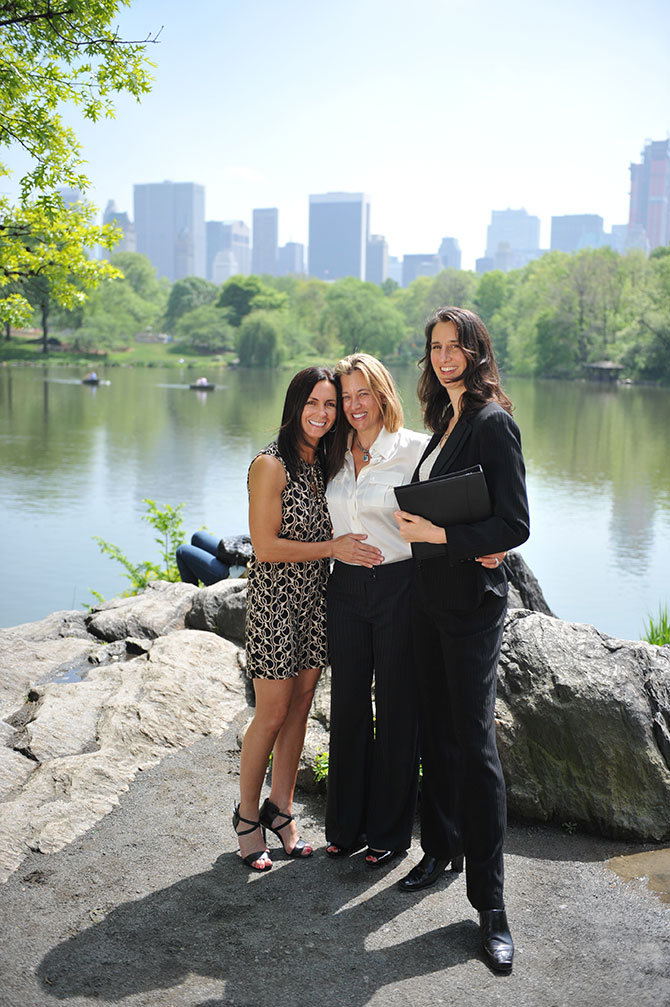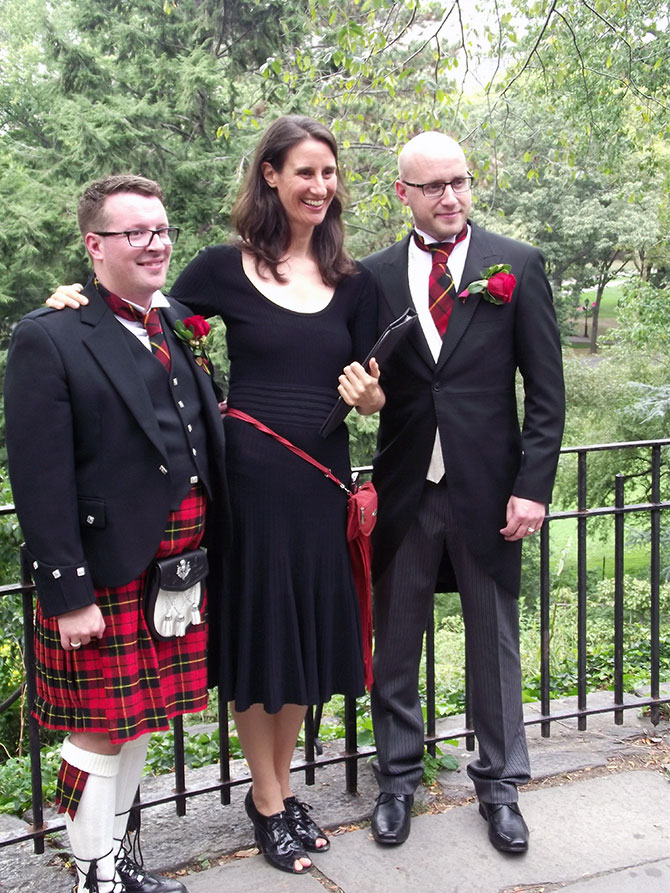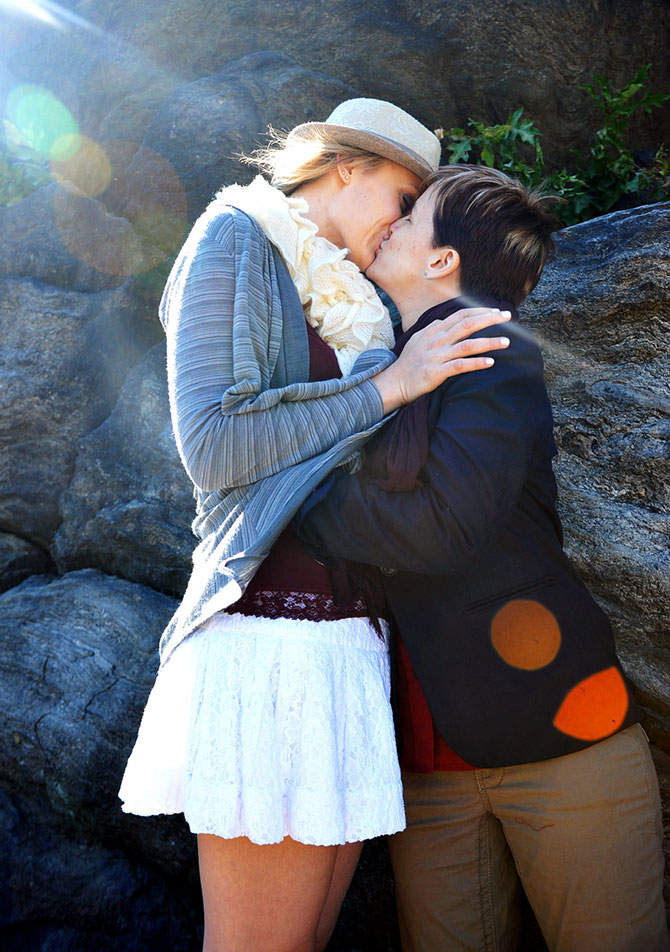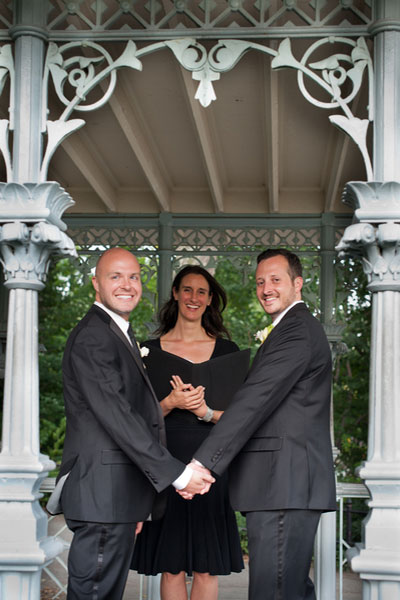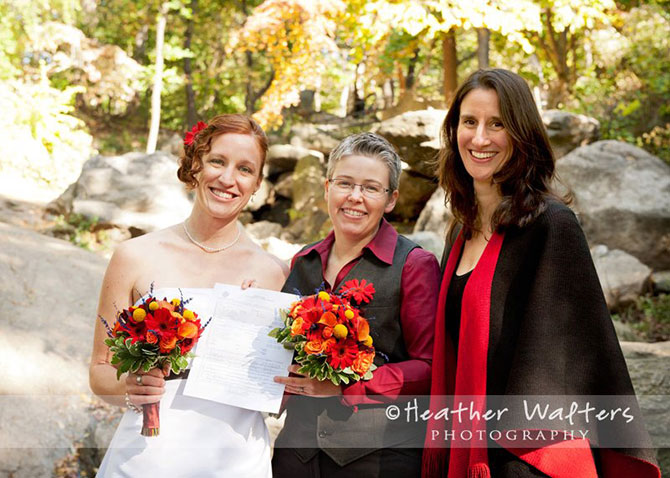 How We Create Your Wedding Ceremony Together
Celebrating Your Truth and Treasure in Love
My wedding writing motto is: Have Fun, Be True! So, what is important to you? Traditions? Trends? Fashion? Nature? Spirituality? Simplicity? Novelty? Humor? We'll collaborate on your ceremony ~ to make it a truthful expression of your love story and your vision for your future.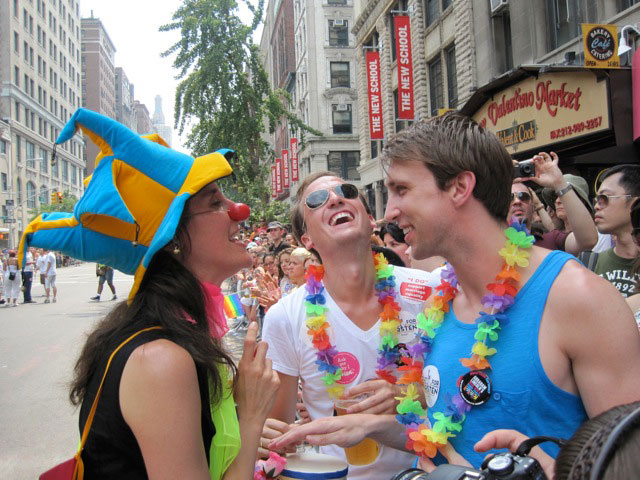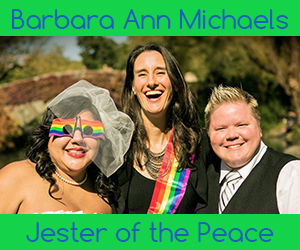 Visit Vendor's Website:
Call Vendor:
646-648-0128
Contact Name:
Barbara Ann Michaels
E-mail Vendor:
Vendor's Social Media:
Vendor's Address:
Planetarium Station, PO Box 715
New York, New York 10024

Visit Vendor's Website:
Call Vendor:
646-648-0128
Contact Name:
Barbara Ann Michaels
E-mail Vendor: