Tide the Knot Beach Weddings
St Petersburg, FL LGBT Beach Wedding Packages
Lesbian-Owned Wedding Planning Business
St Pete Beach, Pass-A-Grille Beach, Clearwater Beach, Treasure Island, Sunset Beach, Siesta Key, Lido Beach, Anna Maria Island, Tampa, Sarasota, St Pete, & Clearwater
Imagine the turquoise water lapping on the shore, a magnificent sunset on the horizon, tropical flowers everywhere, and the two of you in the center of it all. What a great way to say "I DO". Let us do all the work for your dream Florida Beach Wedding or Beach Elopement in the St. Pete Beach, Clearwater Beach, Sarasota and Tampa Bay area. Tie the Knot Seaside.
Tide the Knot Beach Weddings is a St. Petersburg based Florida beach wedding company providing memorable, all-inclusive Florida Beach Weddings, Beach Same-Sex Marriage Ceremonies & Same Sex Weddings, Beach Elopements and Beach Vow Renewals along the shores of Clearwater, St. Petersburg, and Sarasota. We design beach wedding packages and ceremonies to make your wedding day a walk in the breeze. Sunset beach weddings are our specialty, as you will only find the glowing sunsets here on the west coast beaches of Florida!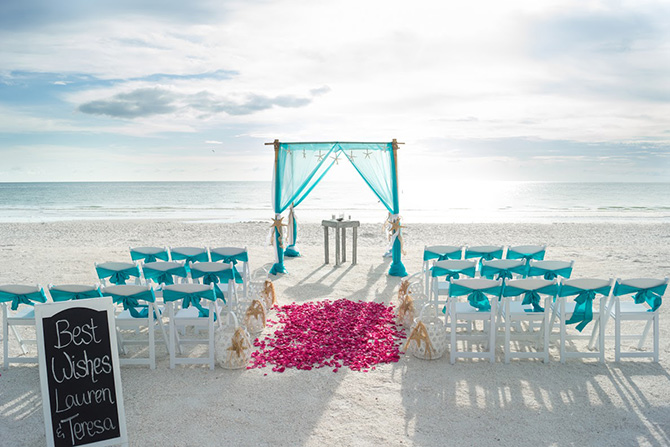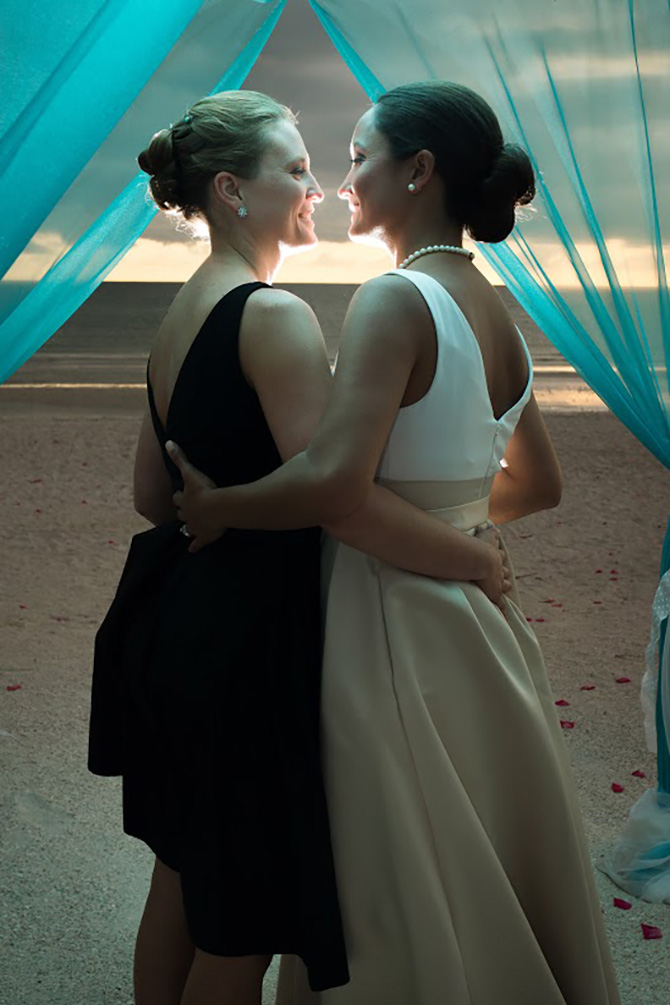 Florida Beach Weddings. Simple. Elegant. Eclectic.
Our comprehensive beach Same-Sex Marriage ceremony packages include eclectic and beautiful beach wedding decorations, guest seating, ceremony coordination, beach wedding photography, music and flowers, set up and break down. We offer extensive photography options in addition to beach wedding photography, such sessions include-Engagement, Getting Ready, First Look, Receptions and Family photo sessions.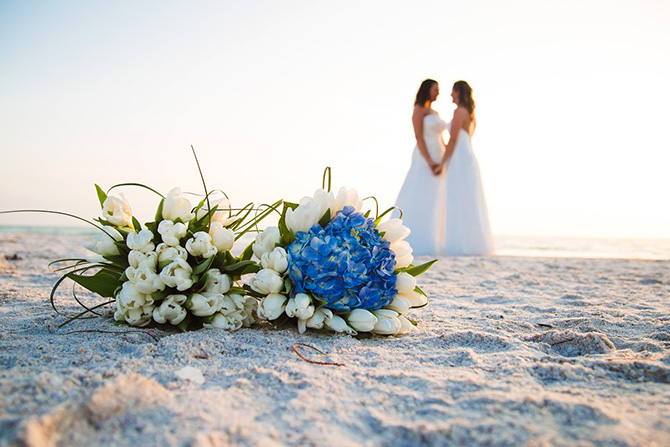 Florida Gulf Coast Same-Sex Marriage Ceremonies
Love is love no matter who you are, no matter who you love. Legalized marriage in the gay community is a political battle that gains ground each year, but equality has not yet been granted for everyone. As of January 6th, 2015, Gay marriage is now legal in Florida, bringing the US total to 36 states allowing same-sex marriage. Say good-bye to Gay Wedding Ceremonies and hello to weddings!
You and your partner have fallen in love and now you want to commit to one another a lifetime of love and happiness. Your choices? Move to one of the 36 states that recognize same sex marriages, wait for marriage to come to a theater near you, or declare your love today and head to the warmest spot in the country and pay tribute to your relationship with a romantic Florida Beach Gay Wedding .
You can elope to Florida for your sunset wedding, just the two of you, and have a romantic exchange of promises barefoot on the beach. Or we can make your dreams come true with an elegant Florida beach wedding-complete with officiant, photographer, beautifully decorated bamboo arbor, music, flowers and as many guests as you desire to share your special day with. Tide the Knot Beach Weddings specializes in Florida beach weddings and vow renewals , all on the Gulf Coast of Florida.
One day we are hopeful that marriage will be a universal right for everyone in the US, as we fought hard the past few years to see Florida stand up for equal rights. Several of our staff members are gay, and several are straight, providing you with a diverse and passionate team that takes pride in making your Florida Gay Beach Wedding elegant and memorable.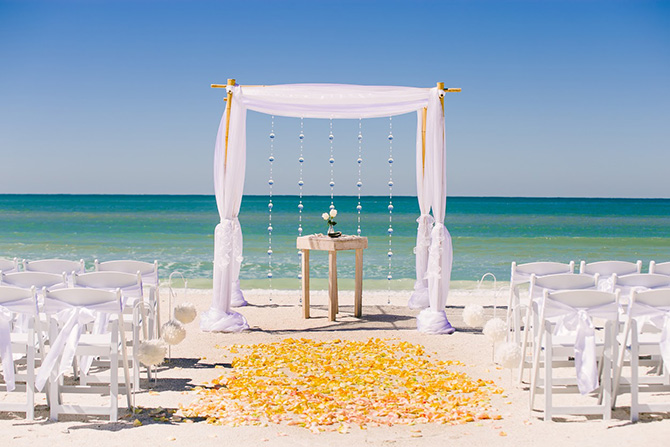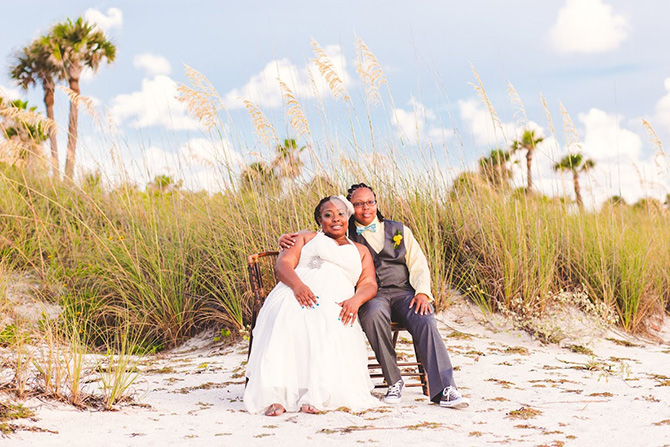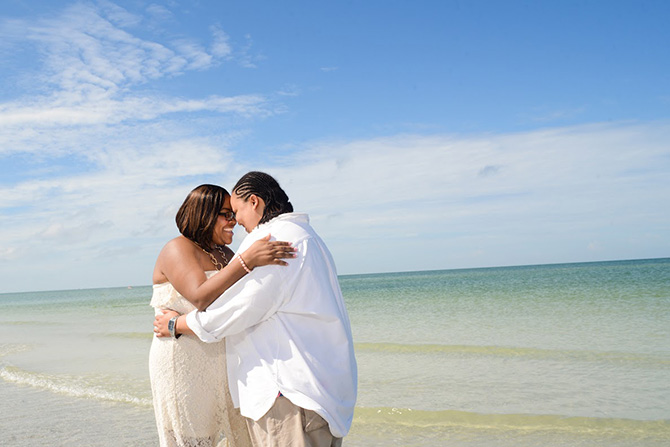 Gay Wedding Packages on a Florida Gulf Coast Beach
Tide the Knot wedding specialists have created eclectic Florida beach wedding packages designed to make your marriage ceremony unique, elegant and memorable. Whether it's just the two of you tying the knot or a bigger affair with friends and family, we have a ceremonial package to suit your style and desire.
Included in every package, to make your day stress-free, are the Officiant to host your ceremony, the photographer and digital high resolution images as well as flowers-choice of one bridal bouquet of fresh roses or two fresh Hawaiian orchid leis. There's even A La Carte enhancements should you want some extra special touches. And if the theme of your dreams is not on our menu, then please allow us the opportunity to customize one for you.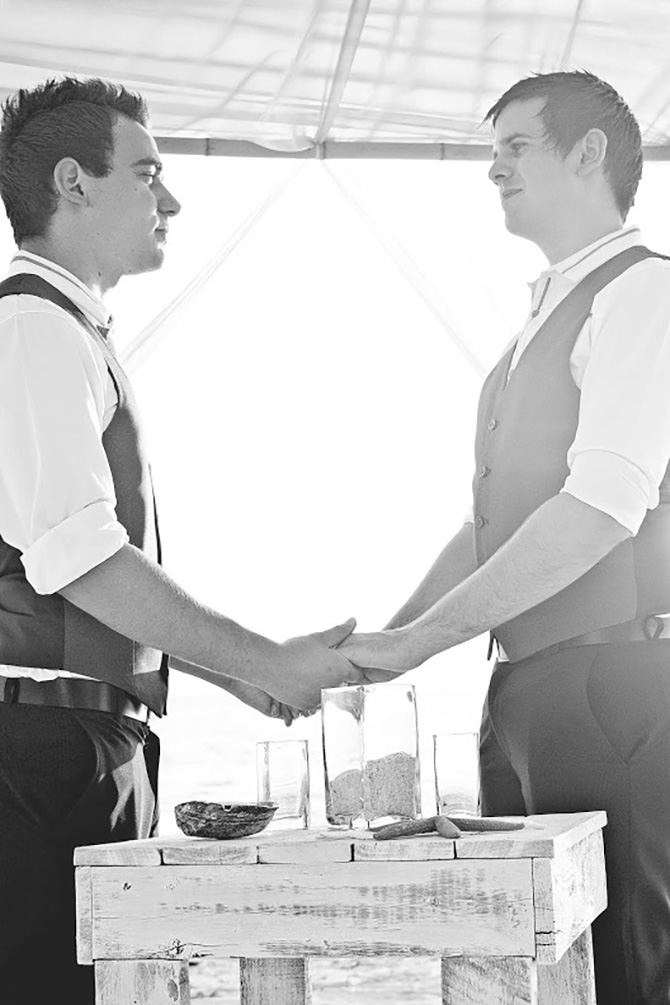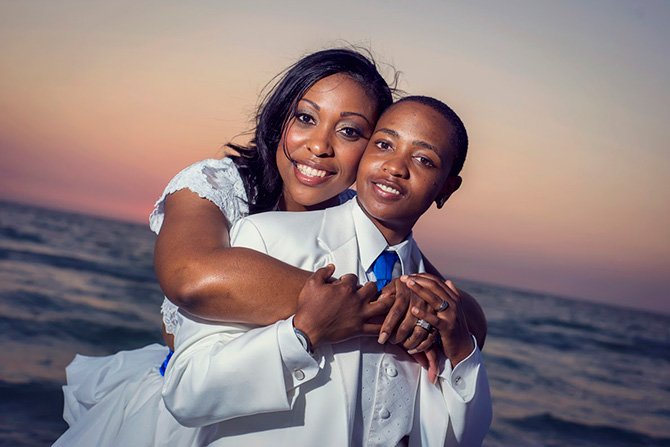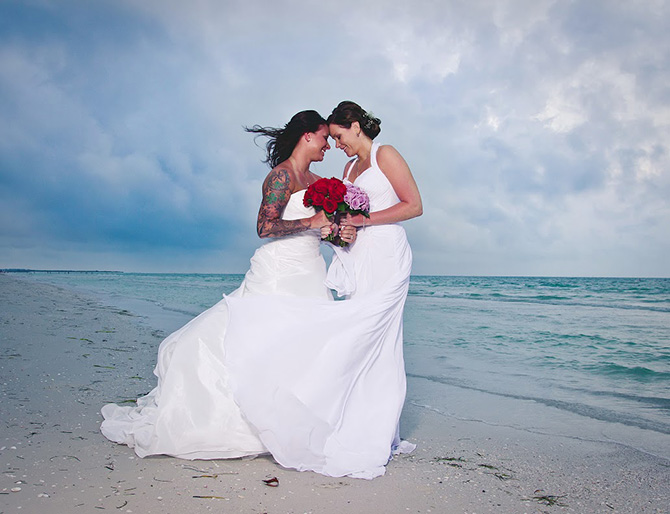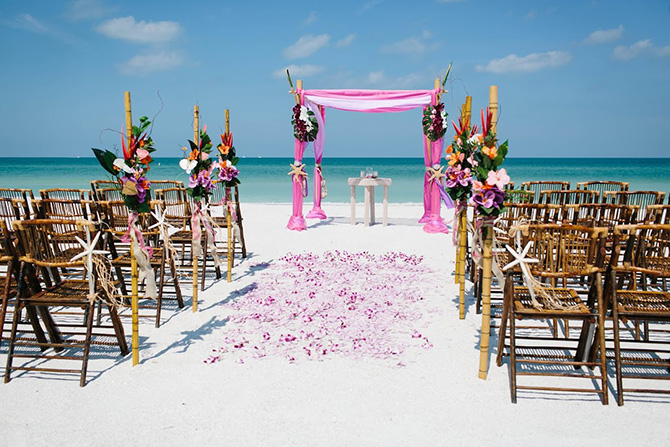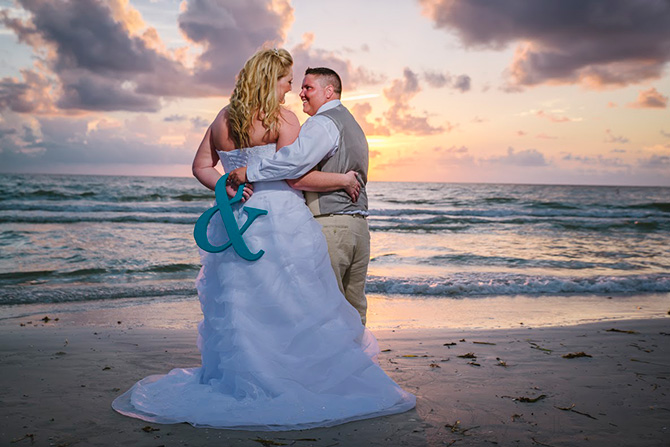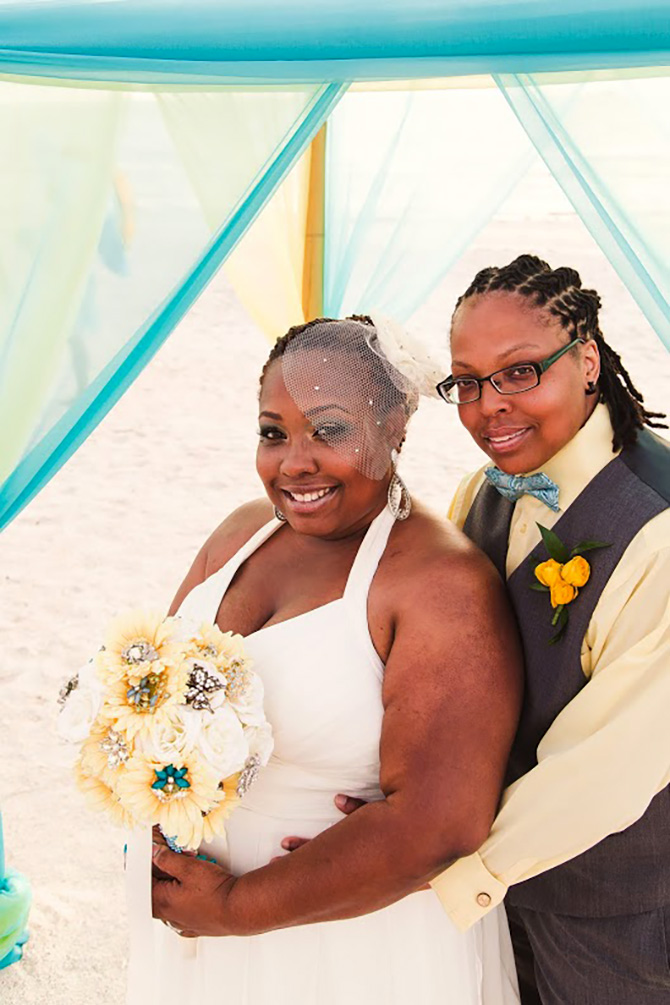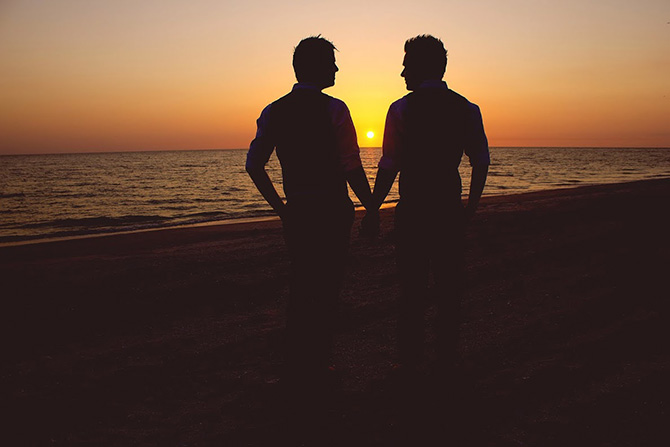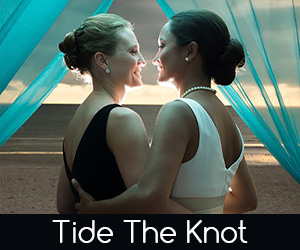 Visit Vendor's Website:
Call Vendor:
727-490-8005
Contact Name:
Lisa Williams & Sue Keirn
E-mail Vendor:
Vendor's Social Media:
Vendor's Address:
St Petersburg,
Florida 33710

Visit Vendor's Website:
Call Vendor:
727-490-8005
Contact Name:
Lisa Williams & Sue Keirn
E-mail Vendor: