Bahia Resort Hotel
San Diego, CA LGBT Wedding Receptions
San Diego Weddings, Mission Beach, Beach weddings, California beach weddings
You've been wishing for a perfect wedding all of your life and the Bahia Resort Hotel is the ultimate place for your dream wedding. Set on 14 acres of romantic tropical paradise. Choose from our elegant ballrooms overlooking Mission Bay, Beachfront settings, or a cruise on one of our vintage Sternwheeler Boats.
We look forward to welcoming you so that we may begin planning the wedding of your dreams.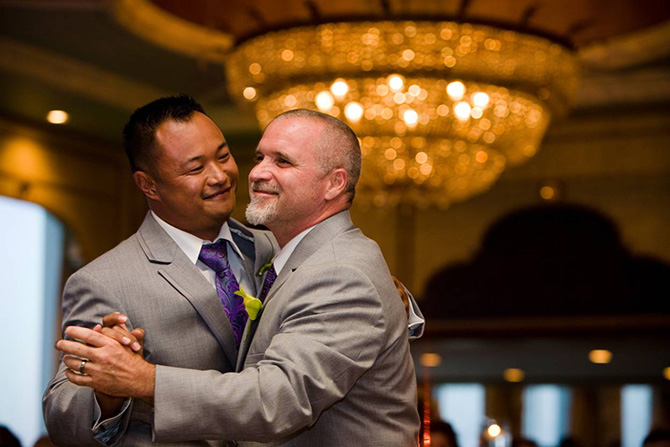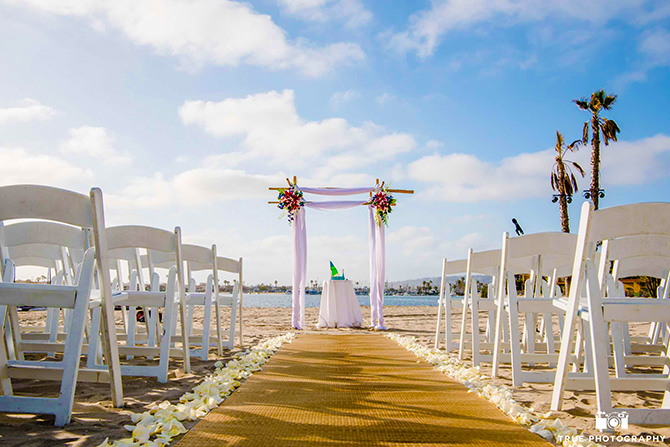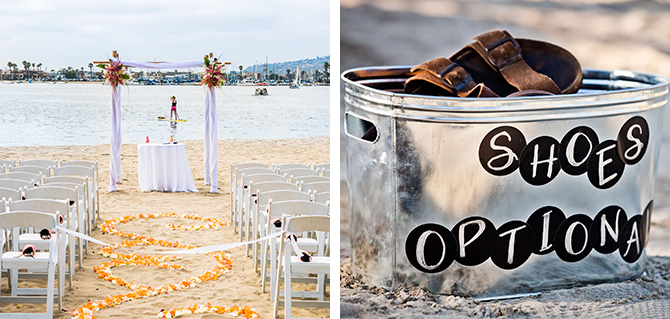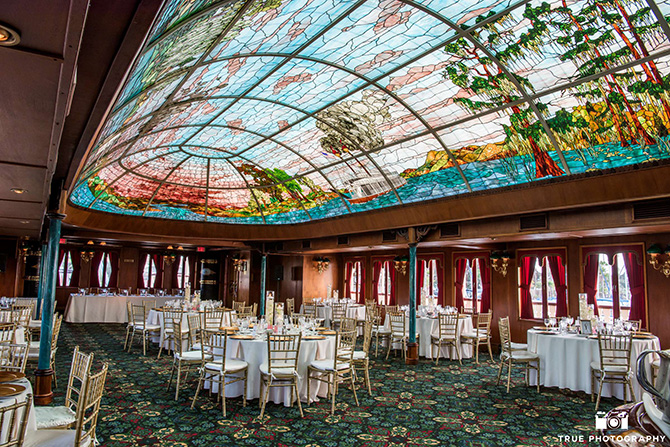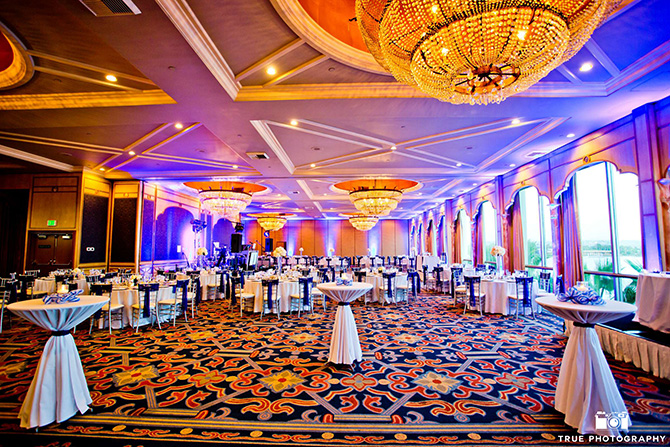 Mission Ballroom
The Mission Bay Ballroom is one of our most versatile venues, perfect for your San Diego wedding and reception. With the built-in marble-topped bars, high ceilings and crystal chandeliers, the luxurious penthouse ballroom is one of our most popular options for weddings from 100 to 500 guests.
The room's stunning floor-to-ceiling windows invite your guests to drink in one of the most romantic views of San Diego – the pristine waters of Mission Bay surrounded by a panoramic view of the city. In the summer, your entire wedding party can watch the skies light up with the SeaWorld fireworks just across the bay. The room is easily accessible for your guests with convenient parking plus a private foyer and entrance… it's everything you need for a secluded wedding getaway.
Shell Room
The wraparound windows of this bright beach side room face the private resort docks where our vintage-style sternwheeler paddleboats await guests for trips around picturesque Mission Bay. The private entrance through a lush garden patio is steps from the beach, making the Shell Room a San Diego wedding paradise for events up to 110 (up to 180 when the Shell and Ventana Rooms are booked together).
The Shell Room also features an adjacent patio with an outdoor stone fireplace, a cozy, romantic way to take the chill out of cool San Diego evenings.
Del Mar Room
The Del Mar Room sits just steps from the Bahia's soft sand beaches. Perfect for an intimate wedding party of 100 or less, the room's beachfront patio opens onto our "toes in the sand" beach wedding area and invites the romantic ocean breezes to give your wedding a true tropical feel.
Inside, the Del Mar Room's casual elegance is ideal for a wedding in paradise. The arched windows look out on the calm waters of Mission Bay framed by the peaceful sandy beaches. The room itself is light and airy, and the decorative ceiling adds another layer of beauty for your picture-perfect wedding day. A private entrance ensures your guests will feel special, too.
Ventana Room
The Ventana Room's two-level ballroom offers a unique floor plan for weddings of up to 60. The private entrance opens to the resort's beach paradise, and the banks of windows offer a stunning view of Mission Bay. The room invokes a feeling of an airy beachfront hideaway and is ideal for intimate San Diego weddings.
Need a little more space for a growing guest list or a dance floor for your first dance? The Ventana Room can be expanded to meet your needs.
Sternwheelers Paddleboat
The next venue to consider would be our elegant sternwheeler boat, the majestic William D. Evans, a tribute to early America's most elegant mode of transportation.
With three hand crafted wooden masts at her bow, a twelve-ton paddlewheel at her stern and stretching over 100 feet in length, she is an incredible sight to behold. This Victorian styled paddle wheeler has a wonderful feeling of nostalgic elegance and maintains an air of 19th century grace with mahogany hand carved wood with period brass and ironworks.
Vintage décor includes ornamental pressed tin ceilings, delicately etched glass, red velvet curtains and winding staircases leading to all levels. On the first level, the "Boiler room Bar is twenty feet of shining copper and brass complete with lights that glimmer on and off.
The second level-dining salon has an exquisite skylight crafted from over 50,000 pieces of European stained glass. Offering panoramic views that stretch across each level, your guests will enjoy fresh ocean breezes and view scenic Mission Bay during their cruise.
By night the William D. Evans becomes the jewel of the bay with total illumination from stem to stern. Interior lighting makes the stained glass ceiling glow while orange colored fire within the smokestacks flicker.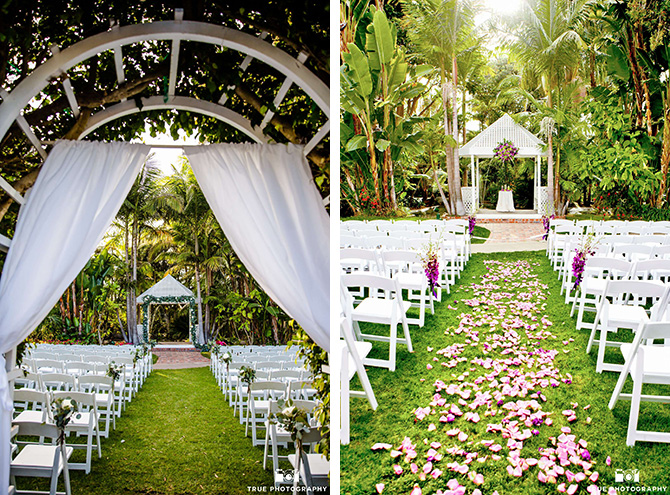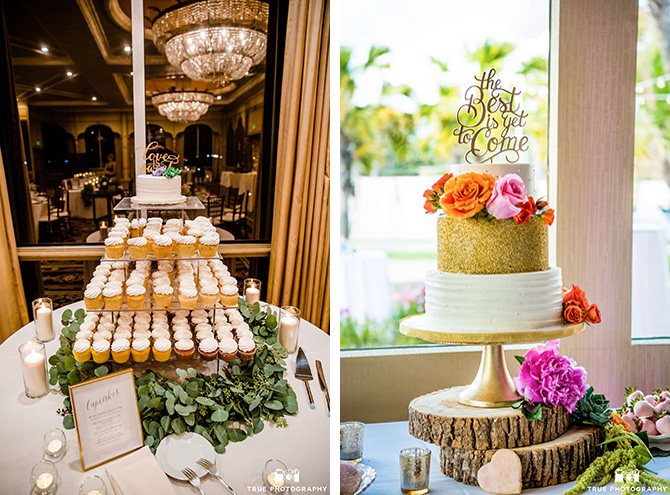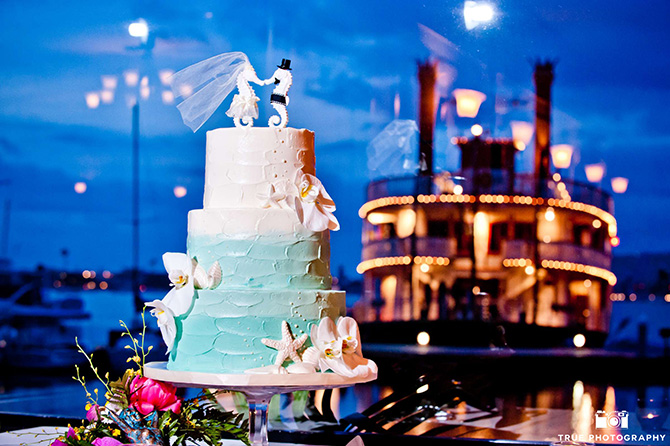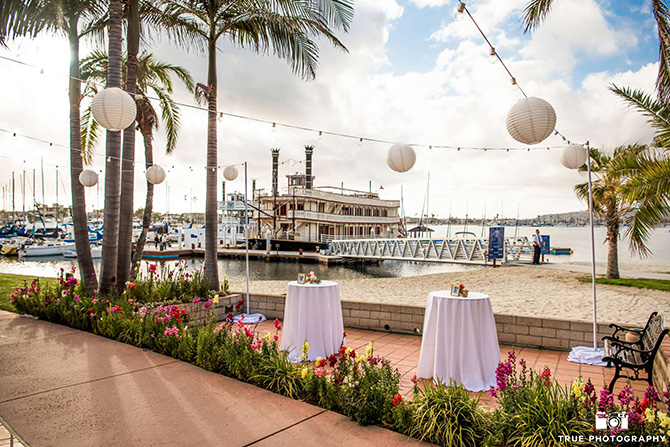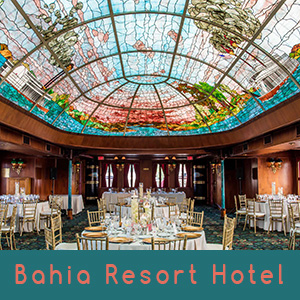 Visit Vendor's Website:
Call Vendor:
(858) 539-8724
Contact Name:
Macarena Carballo
E-mail Vendor:
Vendor's Social Media:
Vendor's Address:
998 West Mission Bay - San Diego, California 92109
Member Since:
February 2015

Visit Vendor's Website:
Call Vendor:
(858) 539-8724
Contact Name:
Macarena Carballo
E-mail Vendor: