Alice Soloway Weddings
Brooklyn, NY Uncommon LGBT Wedding Officiant & Celebrant
Brooklyn, NYC & Hudson Valley
Marriage Equality Celebrated Here!
Your wedding is a spectacular moment in your life. It deserves a ceremony as unique and extraordinary as you are! As a Wedding Officiant based in Brooklyn, NYC, and Hudson Valley I, Alice Soloway, will custom-design and deliver a beautiful and meaningful ceremony that shares your love story and celebrates your journey together. I guarantee the process will be calm, easy, and fun!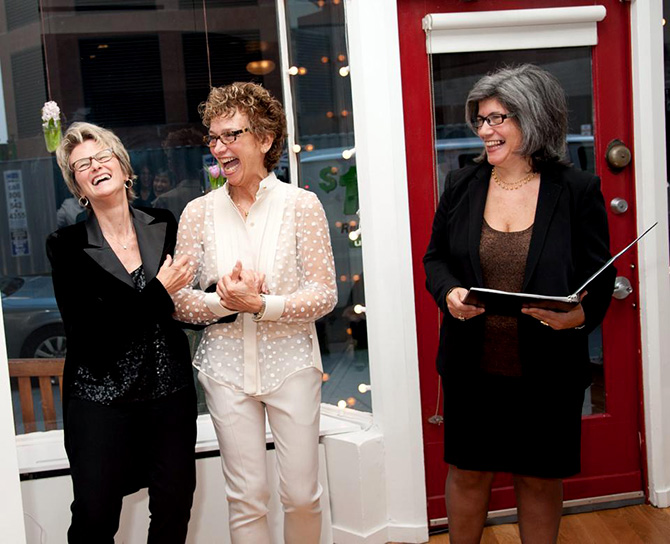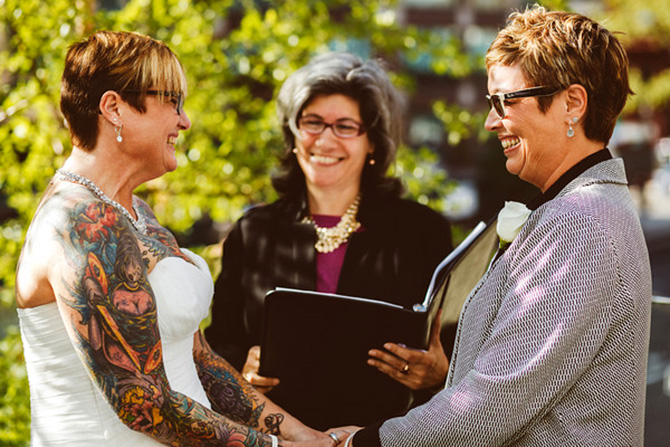 Personalized, Unique, Memorable
I believe that ceremonies should be fully personalized to celebrate each couple's unique love story and journey together. Like each of the couples I'm privileged to work with, every ceremony I craft is distinctive and memorable. Whether your vision is of a traditional or alternative wedding, I will work closely with you to custom design a beautiful ceremony that is meaningful to you and to those you invite to share in this momentous occasion.
With thoughtfulness and respect, I will advise, coach and support you every step of the way as we create your ceremony together. You will have the final say on every word and action performed, so that your love and commitment are fully reflected at your wedding ceremony.
Whether it's an elopement, a simple ceremony or an elaborate event, the possibilities are limitless. Your ceremony will be original, inclusive and absolutely full of love! It would be an honor to officiate at your wedding. Please contact me today for a no-obligation phone conversation or in-person meeting!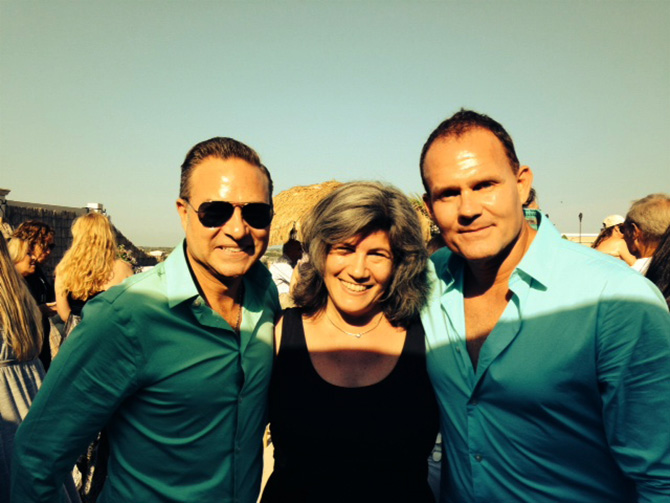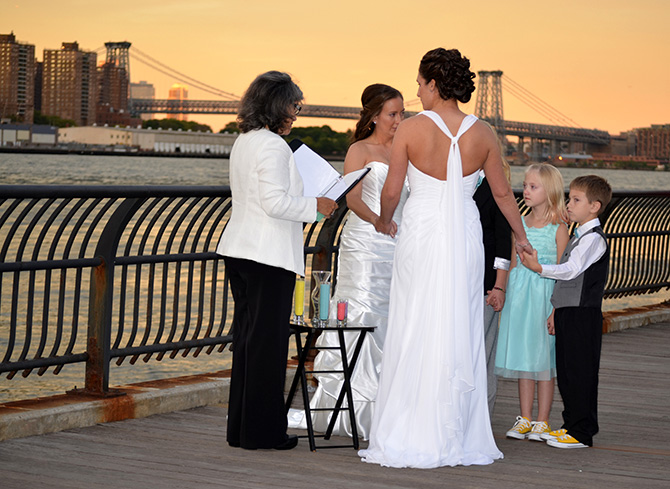 Celebrating Diversity
I am truly honored to celebrate Marriage Equality and the triumphant love stories of ALL couples who want to declare their love and commitment. I am thrilled to welcome LGBT couples from around the country and the world that choose to marry in New York.
I joyfully and enthusiastically work with couples of all cultures, orientations, and beliefs. Short and simple, serious or fun, with family customs, rituals, music and readings — the possibilities are endless!
Your ceremony will be original, inclusive and full of love!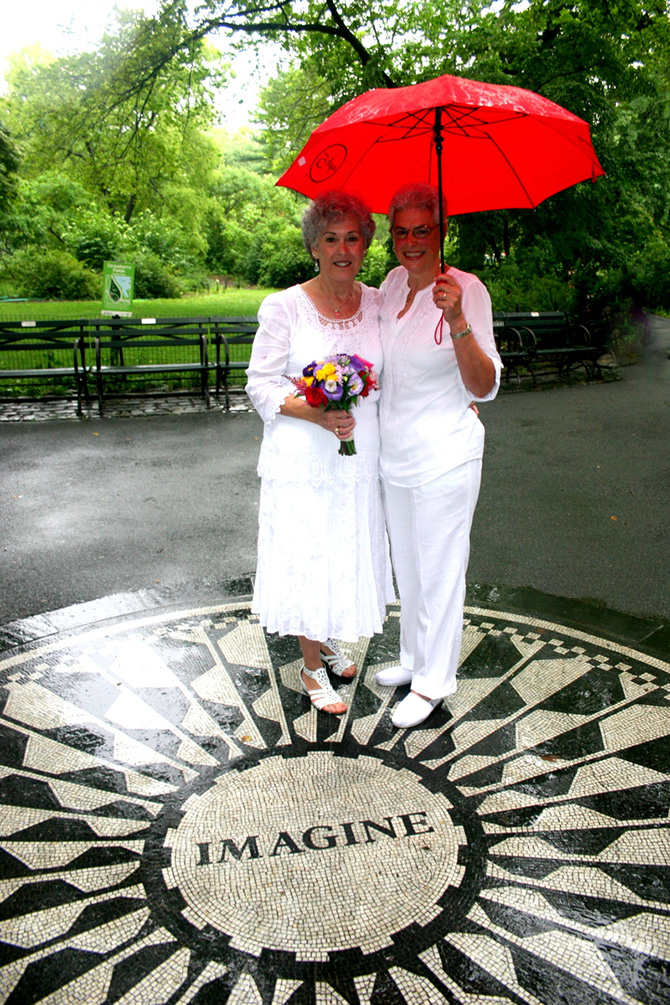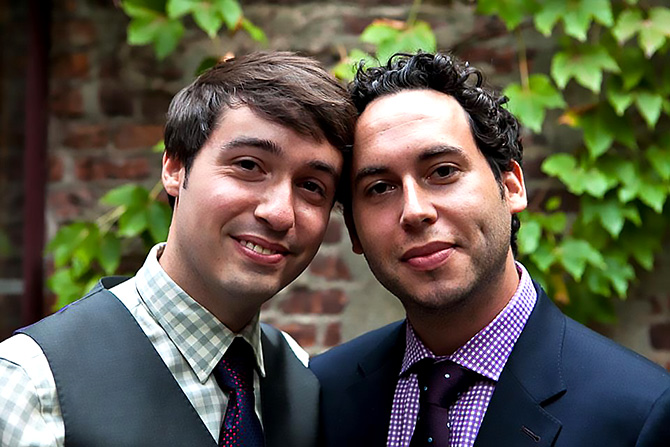 I Live for Relationships
I do! I've always been interested in what makes others tick, and in affirming their feelings and experiences. As a child, I was told I was "too sensitive", and as I grew, I learned to embrace my big, open heart.
What makes me tick? Connecting with other people. Sharing great joys and sorrows. Listening. Asking questions. Celebrating diversity, yet giving voice to the connection among human hearts.
I bring my background in social and political activism, creative arts and homeopathy to my work as Celebrant and Officiant. I've been a graphic designer and involved in creative arts my whole life. Looking for a more meaningful way to work with people, I went back to school for four years and became a homeopath, listening to people's stories, prescribing remedies and walking with them as they transformed and healed. I use this experience to help couples express their stories of love, through ceremony. My background in the arts translates into creative and original ceremonies for every couple I work with.
I have a great life. My loved ones and my clients are my inspiration. I have two beautiful children in their twenties, a cherished partner, very close family and friends, a garden and a dog. Music, laughter and gratitude are key.
I am a Certified Life Cycle Celebrant, professionally trained and educated in the art of ceremony by the Celebrant Foundation & Institute. I'm all yours as we work together to create your wedding ceremony.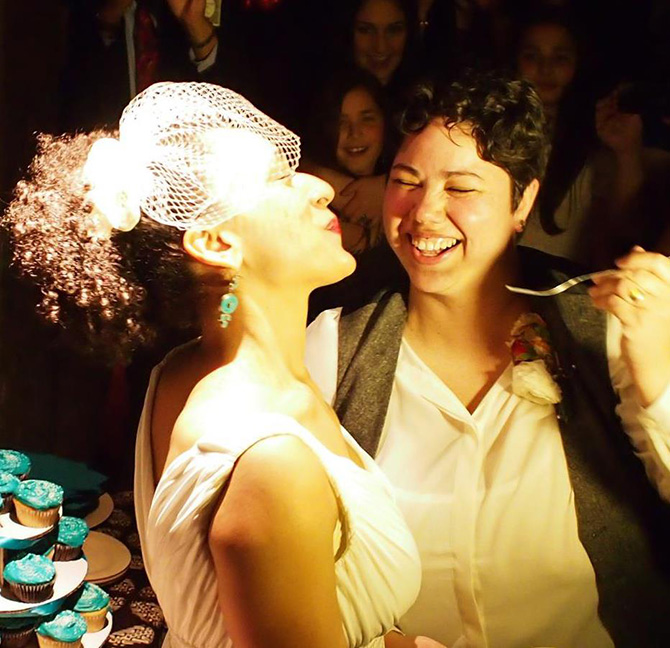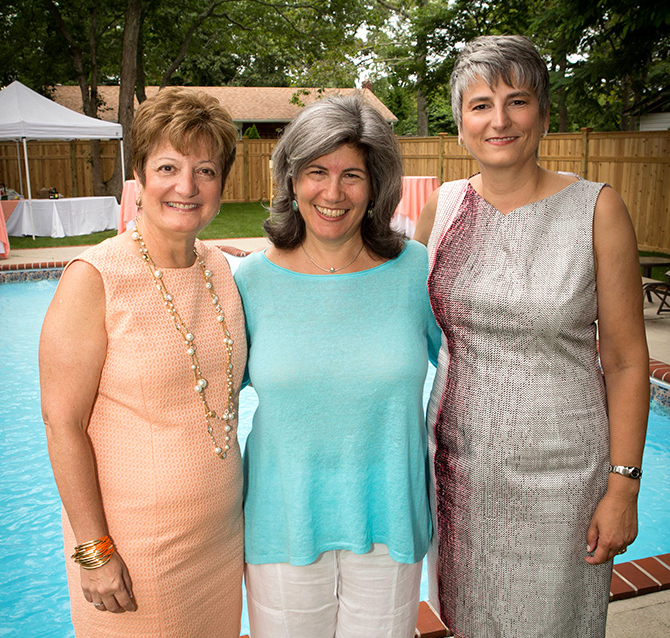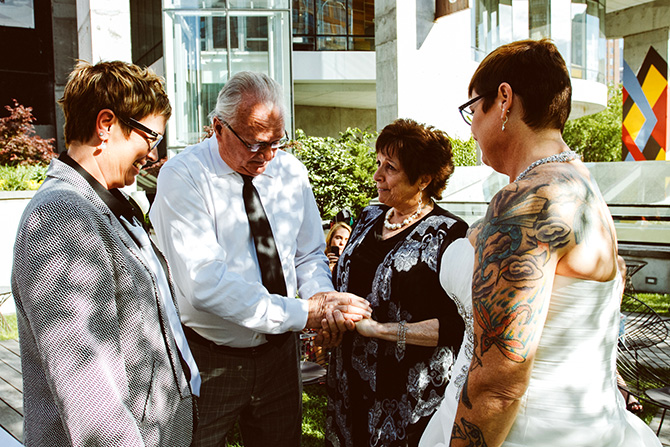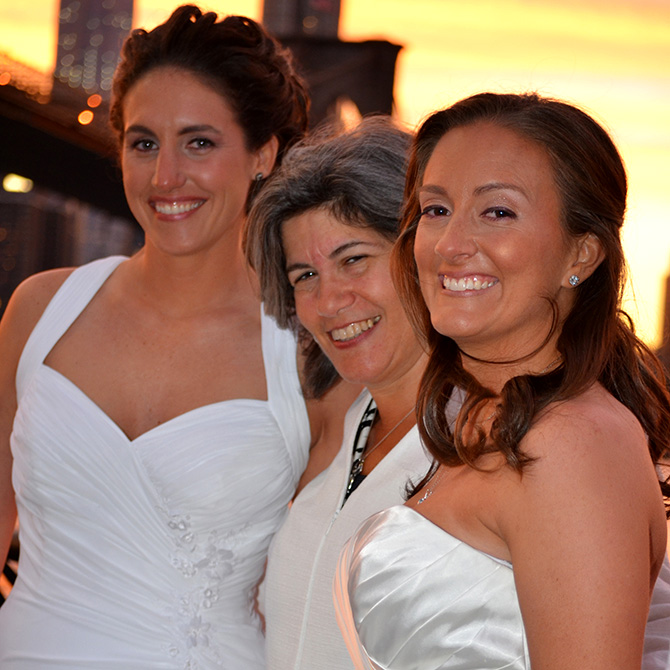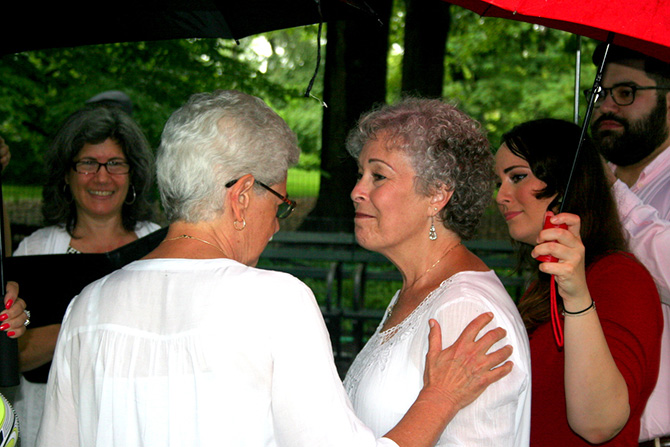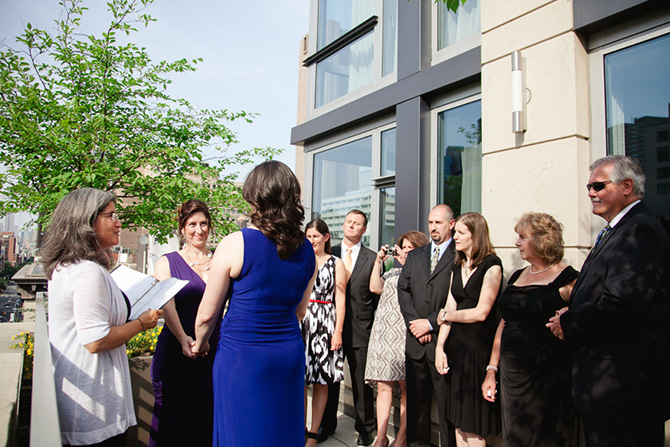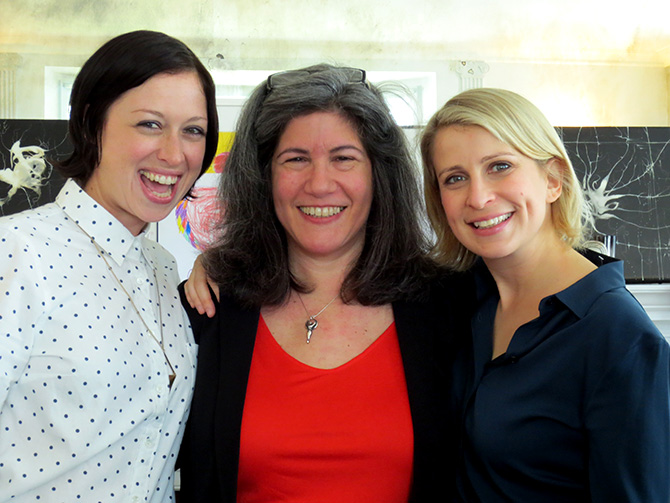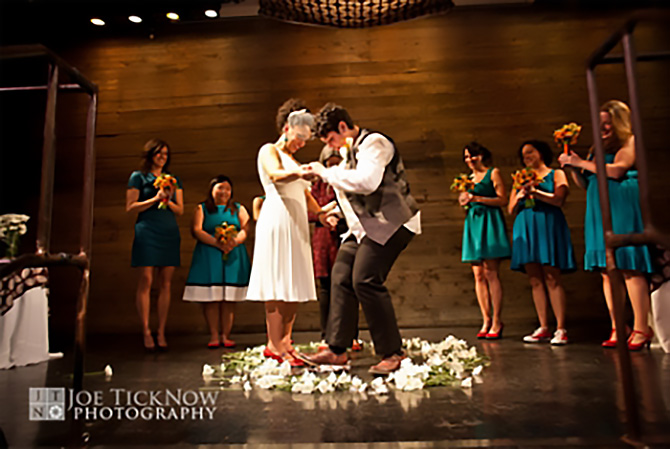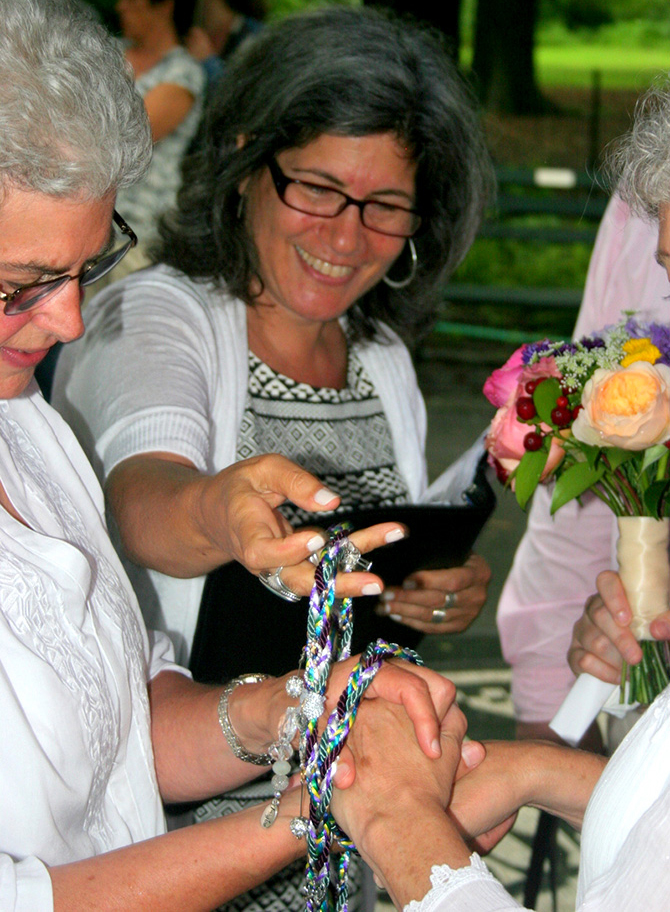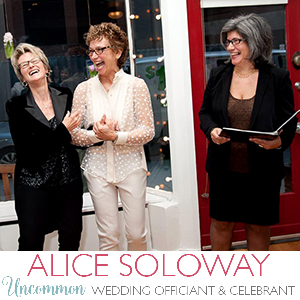 Visit Vendor's Website:
Call Vendor:
347-247-3009
Contact Name:
Alice
E-mail Vendor:
Vendor's Social Media:
Vendor's Address:
Brooklyn, NY 11226
Member Since:
November 2012

Visit Vendor's Website:
Call Vendor:
347-247-3009
Contact Name:
Alice
E-mail Vendor: