Mountain High Weddings
Lake Tahoe Gay Marriage Officiant
Ceremonies preformed from West Shore Lake Tahoe, to North shore and Truckee areas
Mountain High Weddings specializes in providing you and your partner the opportunity for a unique experience, whether you're adventurous or simply want something different. We can marry you under a full moon, on top of a mountain or in a sunbathed meadow, during any time of the year. As marriage celebrants we are excited to bring two people together anywhere.
In celebrating your marriage, the ceremony can be as traditional or unique as you desire. You choose how you want to be reflected as a couple. We help you create a theme, practice religious rituals, and include family, guests, music, poetry and yes even pets. We don't limit your ceremony, we help you bring anything special to your day.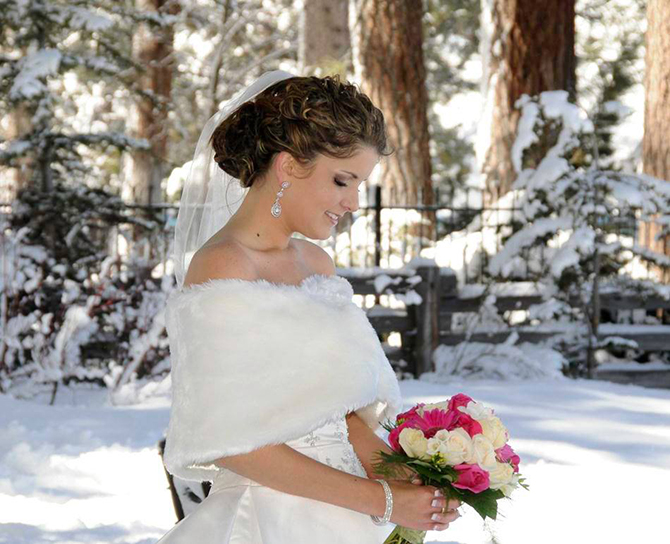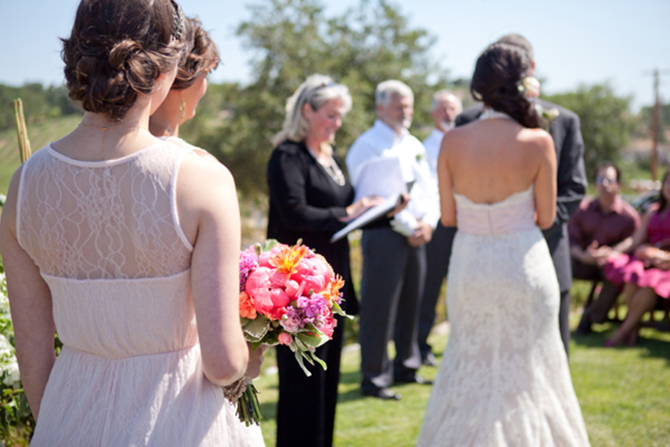 Our Philosophy
We believe that marriage is the ultimate commitment that two people can make. A wedding ceremony is an opportunity to declare your love, promises and dreams to your chosen partner. We feel it is a privilege to be part of a couple's happiest day.
The celebrants at Mountain High Weddings are ordained through the Universal Life Church. This Church believes we are all one, no matter what religion an individual practices. We are all in this world together. It is our belief that a wedding should be as stress-free, easy-going and flexible as possible.
For those couples who are adventurous, we are the celebrants for you. Whether you want to get married on skis on top of a mountain, have a small intimate dinner party in the middle of a meadow, or be wed under the full moon on the lake, Mountain High Weddings will help you create a unique wedding ceremony.
Eagle Rock Weddings
Eagle Rock is a volcanic extrusion that rises above tree top level and affords the most panoramic view of Tahoe. With over 180° and the least amount of effort for the most spectacular view, Eagle Rock is a special place. This does require a short hike. It is beautiful any time of year at any hour.
Elopements
With Mountain High Weddings you can on short notice be married legally in the State of California and never have to cross the threshold of a church or courthouse. We are able to issue wedding licenses, with no waiting, and have wedding ceremonies that are ready and that can easily be personalized. With the most sunny days of any area in the United States the Lake Tahoe area offers plenty of opportunity for a beautiful outdoor wedding. Public and private paradises abound.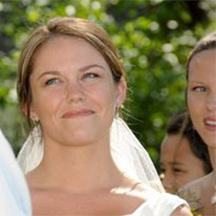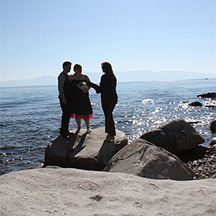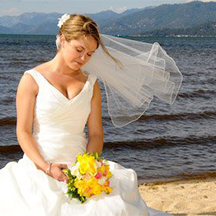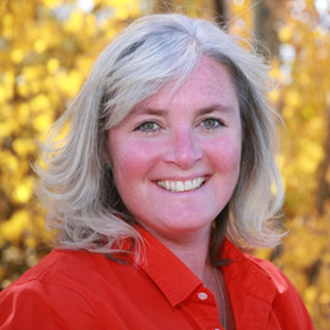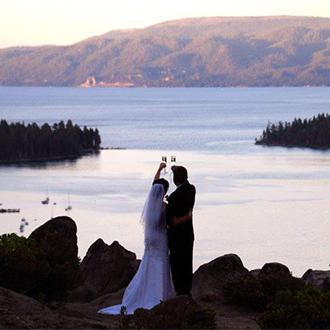 Celebrant Reverend Christa Deane
I am blessed to live in such a beautiful place that allows me to do something I love. I have lived on Tahoe's West Shore since 1988. I've had many jobs, all in the people business. I started working in a flower shop and after a few months I realized there are a lot of weddings in Tahoe. I thought to myself, What a wonderful job, celebrating marriage?
I found out what it took to marry people and I started in May of 1998. I was ordained by the Universal Life Church, which believes we are all one, no matter what religion, you or I may be, we all must live in this world together. As a marriage celebrant I am excited to be a part of bringing people together. I believe marriage is the ultimate commitment that two people make when they share the same goals, ideas, values, and most importantly love. I also believe the wedding ceremony is one time you have to declare your feelings, promises, and dreams in front of your loved ones. I know marriage is worth celebrating. I also know that the pre-celebration can be a little stressful and that is where I realized my calling. Creating ceremonies & celebrating the day of marriage.
Becoming a marriage celebrant has blessed my life in so many ways. With my many years of experience I have brought hundred's of couple's together, and with that experience I have been able to accomplish keeping the ceremony stress free.

Visit Vendor's Website:
Call Vendor:
530-686-6028
Contact Name:
Christa Deane
E-mail Vendor:
Vendor's Social Media:
Vendor's Address:
Homewood, CA 96141
Member Since:
January, 2015

Visit Vendor's Website:
Call Vendor:
530-686-6028
Contact Name:
Christa Deane
E-mail Vendor: